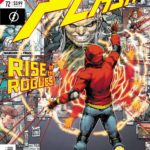 DC has posted the official preview pages for this week's Flash issue at their site, and you can see the pages here. In it, an inexperienced Barry Allen confronts the Turtle for the first time, and encounters his troublesome Still Force powers.
THE FLASH #72
written by JOSHUA WILLIAMSON
art and cover by HOWARD PORTER
variant cover by DERRICK CHEW
"The Flash Year One" continues! Things are not looking pretty for the Flash, who just got his scarlet butt handed to him by the Turtle. If Barry Allen thought being a hero was going to be easy, he'd better think again after this beating-—but will it be enough to detour his destiny?
ON SALE 06.12.19
$3.99 US | 32 PAGES
FC | RATED T
This issue will ship with two covers.
Please see the order form for details.
Share