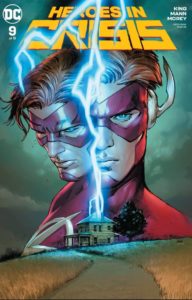 I've held off for the most part on HEROES IN CRISIS, waiting for the ending to somehow turn things around for my opinion. After all, Tom King is a great writer and I usually am a fan of his work. I do think this book was well intentioned when it comes to depicting mental health issues…even though it missed the mark significantly. But, now that the series is over it's time to finally talk about what went very, very wrong about HEROES IN CRISIS…a book that hopefully will be retconned out of continuity at some point in the near future. Want to know more? Follow us after the jump!
 SPOILERS AHEAD for HEROES IN CRISIS. You have been warned!
NOTE: This article is also appearing at TMStash.com.
Let's talk first about what HEROES IN CRISIS was supposed to be. It was meant to be an examination of the stresses and scars all heroes go through. To show that even superheroes experience trauma. That getting help is a good thing to do. It did all this by having Wally West become a mass murderer.
The action centers around a place called The Sanctuary. This is a place, "built by Batman with Kryptonian Crystal technology, with Wonder Woman's compassion." It was set up to give VR counseling sessions, to help heroes (and even some villains) suffering from some vaguely diagnosed "trauma".
From Lois Lane's article in issue #4, "Seeking relief from PTSD-type symptoms, superheroes have been seeking psychological help in a secret facility located in the upper Midwest. In the plains of America, as part of a systematic effort to treat psychological damage suffered on the field of battle, the most powerful beings on this planet have cried out their fears and hopes in front of a camera…These videos reveal a world long hidden from the public eye. A world where mental health problems underlie the easy smiles and clever quips of your favorite masked avenger."
The counseling sessions are depicted as if we are watching an old episode of MTV's REAL WORLD. I'm not sure how these confessionals help, but they aren't the only part of the counseling services. The VR part of this creates whatever environment the subject needs to confront and deal with their trauma.
In a public statement, Superman later adds, "…yes, Sanctuary exists. It exists to help these heroes recover from this pain. To help them recognize themselves under these scars. To help them wake from these nightmares. But its existence, it should not scare you. On  the contrary, it should comfort you. This suffering. This need for healing. It is not the mark of a madman. It is the wound of a warrior. It's a sign. A sign of their love of truth. Their hunger for justice. And their fight for the American Way."
I do have a question at this point, one that I think matters a lot here. Young Bruce Wayne was counseled by Dr. Leslie Thompkins (at least in some continuities), and she continued to counsel him as an adult. Why would Bruce Wayne trust an AI more…given the need for a human counselor in his own life? Instead we get, "The Chamber". A psychiatrist on site? Nope. Psychologist? Sorry. Licensed Clinical Social Worker? You're out of luck, pal. No counselors here…just a bunch of VR based on alien tech and built by a man who dresses like a bat. What could possibly go wrong?
Here's what could go wrong…
Blue Jay. Hot Spot. Roy Harper. Commander Steel. Lagoon Boy. Gunfire. Tattooed Man. Gnarrk. Kid Devil. The Protector. Solstice. Nemesis. Poison Ivy. Wally West…all apparently dead (we'll come back to the last two in a moment). That's what could go wrong with Sanctuary.
We spend much of the series trying to figure out just who killed all those people. The clue are spread throughout several issues, and if you go back to look at them all, you can see it was there all the time.
Wally did it.  Wally West, the third Flash, hero of Keystone City, one time member of the Teen Titans and the Justice League, killer of at least thirteen people. Let that sink in…
Why did he do it? Buckle up folks, you'll love this one…
Wally felt alone. (Nope, not there yet…) That Sanctuary was somehow set up just for him. That everyone else was alright. That he was the only one so broken. So, he got into the VR of Sanctuary, viewed all the other confessional videos, and learned that he wasn't alone…
And that broke him.
It is at this moment that we learn of the lethal nature of the Speed Force. That if you somehow lose control for even a second, it becomes deadly. Knowing that, and knowing he is in danger of losing control, Wally runs out of the Sanctuary…but a group follows him out. Wally loses control for that second, and it kills everyone who had come to check on him.
So, Wally has become a murderer. And then, Wally is so irresponsible, so unwilling to face what has happened, that he purposely sets things up to look as if Booster Gold or Harley Quinn did it, pitting them against each other.  That's where we spend much of this series, following the lie that a murderous, irresponsible Wally West laid out. (And yes, it is making me sick to write this).
In the field outside Sanctuary. Wally is able to bring Poison Ivy back to life (now completely connected to the green)…just to witness his suicide? Wait, it gets stranger…just as Booster Gold, Blue Beetle, Harley Quinn, and Batgirl arrive…
Wally, who accidentally killed over a dozen people because he didn't feel alone, is stopped from killing himself. How? Future Wally tells the Wally who just killed everyone, "Kid. You're not alone." Wait, isn't that realization what caused him to lose control and kill everyone in the first place?" It makes my head hurt.
And of course, even though this was involuntary, and even though this was the direct result of some nebulous mental illness, Wally is locked up…jailed until, who knows?
And what happens to The Sanctuary? After it worked out so tragically before? After over a dozen people died?
It stays open.
Really.
Let's first talk about what went wrong from a mental health perspective, as that is frankly the most important miss in this series. No one had a specific diagnosis, other than "PTSD-like symptoms". All had experienced "trauma", but that's the extent of what we know about any of the subjects served by The Sanctuary. The point here is that we had a bunch of generic "mental health issues", which is like saying that a regular hospital treats "illness". Tom King is a great writer, but he didn't do his homework, and it shows. This series, meant to highlight the mental health issues of superheroes, instead throws a generic and often inaccurate light on mental health issues.
Worst of all is the depiction of Wally's mental health issues. Was he depressed? Did he have PTSD? All we know is that he had mental health issues, and that you had supposedly better steer clear of people like him. It seems to say that if you have a mental health issue, you could lose control at any time and become a mass murderer. That the "counseling" he received was not going to prevent this tragic outburst. If this series is meant to say that getting counseling is a good thing (NOTE: it really is), this is a very poor way to make that point.
Mental health issues deserve a better explanation than this series provided. If you want to see that, there are some other great examples in current comics. This was a huge miss – and it comes from wanting to write about "mental health" without actually doing the work to accurately depict the issues involved.
Now, let's get to the part that many fans have been waiting to see discussed…
How could they do this to Wally West? Fair question. Wally was written out of continuity after FLASHPOINT, with DC leadership seeming to thumb their noses as fans who begged for his return. We finally see Wally's return with the start of REBIRTH, and it was a tremendously positive fan reaction. Thoughts began to turn to Wally West being the key to REBIRTH, and that his character might even be central to the DCU as a whole.
This series ends that thought.
After a relatively brief return to the spotlight, Wally West has now been tagged as a mass murderer. His character is now incarcerated, serving time for his fatal loss of control of the Speed Force. Tainted forever…or at least until the next "Crisis" event that may give DC the ability to retcon HEROES IN CRISIS out of existence.
This. Was. Cruel. To. Fans. Of. Wally. West…and not for any good reason.
If this was, "we need to do something dramatic to promote mental health issues," it failed as mental health issues were not accurately portrayed in this series. Treatment for mental health issues was not portrayed accurately. We lost a lot of DC Characters including two former Titans – with Roy Harper's death and the turning of Wally West into a murderer.
This series could have been much more. I still believe Tom King meant for it to be much more. I'm certain his other work will continue to impress. But, this series missed the mark on so many levels. It missed a great opportunity. And that is the great shame of HEROES IN CRISIS.
Share