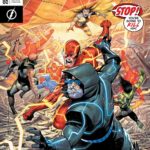 DC has posted six preview pages for this week's issue of The Flash, and you can see them at CBR. In the preview, we see just how powerful the amped-up King Cold really is now, and get a bit more insight into what he and Barry are thinking. Check it out at the link!
THE FLASH #86
written by JOSHUA WILLIAMSON
art by CHRISTIAN DUCE
cover by RAFA SANDOVAL and JORDI TARRAGONA
card stock variant cover by DUSTIN NGUYEN
The Flash battles Captain Cold for the last time! The Rogues' Reign is a brutal battle for power over Central City, but the tides are turning and the reign approaches a deadly end! With the Speed Force in chaos, can Glider help channel Flash's powers long enough to overthrow her brother, Captain Cold?
ON SALE 01.15.20
$3.99 US | 32 PAGES
CARD STOCK VARIANT COVER $4.99
FC|DC
This issue will ship with two covers. Please see the order form for details.
Share