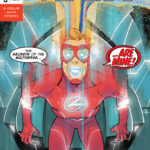 DC has posted five pages from Flash Forward #5, and you can see them at Newsarama. In the preview we see flashbacks to Wally's life and early history as the Flash and Kid Flash, and he's reunited with his children Jai and Irey. Check it out at the link.
FLASH FORWARD #5
written by SCOTT LOBDELL
art by BRETT BOOTH and NORM RAPMUND
cover by EVAN "DOC" SHANER
variant cover by INHYUK LEE
Wally West has gotten to the heart of his mission to save the Multiverse…and the heart he found was his own. When it's discovered that the dark multiversal world that's threatening all of existence is the world in which Wally's children are alive, our hero must overcome his greatest fears, regrets, and anger to do what's right. But what's right is the hardest thing anyone would ever imagine doing…letting go.
ON SALE 01.15.20
$3.99 US |5 OF 6 |32PAGES
FC|DC
This issue will ship with two covers. Please see the order form for details.
Share