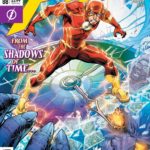 DC has posted six preview pages for next week's issue of The Flash, and you can see them at CBR. In the preview, we see a flashback to some characters from Flash: Year One as set-up for the upcoming villain Paradox. And you may recall that the future Barry Allen warned his past self about Paradox at the end of last issue. Check out the pages at the link!
THE FLASH #88
written by JOSHUA WILLIAMSON
art by RAFA SANDOVAL and JORDI TARRAGONA
cover by HOWARD PORTER
card stock variant cover by MICHAEL GOLDEN
Witness the birth of Paradox! As a hero, the Flash helps as many people as he possibly can…but Paradox shows what happens when ordinary people pay the price for super-powered battles royal. What started as a happy life of family and science turned into a nightmare when the Turtle's attack on Central City rained down from the future—and now the story of the civilians caught in the crossfire will change the Flash's life forever!
ON SALE 02.12.20
$3.99 US | 32 PAGES
CARD STOCK VARIANT COVER $4.99 US
FC | DC
This issue will ship with two covers.
Please see the order form for details.
Share