This post includes major spoilers for Flash Forward #6 (due out in two weeks), so please skip it if you want to remain surprised about the issue. The information is behind the jump.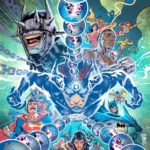 Newsarama reports that DC's upcoming FCBD issue will be called Generation Zero, and features Wally as the new custodian of the Mobius Chair, which will take on the powers of Doctor Manhattan. Newsarama quotes DC's description of the issue as "Wally West can see the past, present and future of the DC Universe all at once…Including what needs to be changed." So it seems that Wally will become the new Doctor Manhattan, or at least take on his abilities.
This isn't entirely surprising, as we've already seen art of Wally in the Mobius Chair, but the extent to which it will be taken in Flash Forward and beyond is a bit of a shock. It's a unique direction and lets him carve out his own path as his own person within the DCU, but only time will tell if it pleases his long-suffering fans.
For those who have opted to read this far, what do you think? What do you hope to see, or not see in this development?
Share