DC has released the full complement of solicitations for September 2020, and here are all the ones relating to the Flash. That month will see the finale of Joshua Williamson's run on The Flash book, as well as a Death Metal tie-in called Dark Nights: Death Metal Speed Metal written by Williamson. The tie-in will feature several members of the Flash Family in action together, including Wally West and Jay Garrick.
You can see the solicits in full at Newsarama.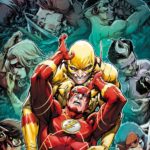 THE FLASH #761
written by JOSHUA WILLIAMSON
art and cover by HOWARD PORTER
variant cover by INHYUK LEE
ON SALE 09/08/20
$3.99 US | 32 PAGES | FC | DC
"Finish Line" part three! It's the Flash Family versus the Legion of Zoom! Witness the biggest battle in Flash history as the two sides go head-to-head for the fate of the future! Can the Flash stop the unstoppable Reverse-Flash from dragging him down into a personal hell Barry Allen can never escape?!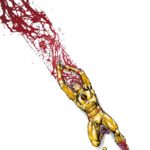 THE FLASH #762
written by JOSHUA WILLIAMSON
art and cover by HOWARD PORTER
variant cover by INHYUK LEE
ON SALE 09/22/20
$3.99 US | 32 PAGES | FC | DC
"Finish Line" finale! Barry Allen and the Reverse-Flash race for the last time in this fast-paced conclusion. For years, Eobard Thawne has tormented Barry Allen, and now the Flash knows the only way to win is to make sure the Reverse-Flash never runs again! The story years in the making comes to a close as Joshua Williamson finishes his epic 101-issue run on The Flash!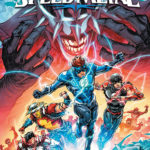 DARK NIGHTS: DEATH METAL SPEED METAL #1
written by JOSHUA WILLIAMSON
art by EDDY BARROWS and EBER FERREIRA
cover by HOWARD PORTER
variant cover by PEACH MOMOKO
ONE-SHOT | ON SALE 09/22/20
CARD STOCK COVERS
$5.99 US | 48 PAGES | FC | DC
It's the drag race from hell in this one-shot tie-in to Dark Nights: Death Metal! Taking place after the events of Dark Nights: Death Metal #3, the Darkest Knight is after Wally West and his Dr. Manhattan powers. Thankfully, Wally has backup in the form of Barry Allen, Jay Garrick, and Wallace West! It's a knockdown, drag-out race through the Wastelands as the Flash Family tries to stay steps ahead of the Darkest Knight and his Lightning Knights!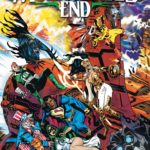 DARK NIGHTS: DEATH METAL MULTIVERSE'S END #1
written by JAMES TYNION IV
art by JUAN GEDEON
cover by MICHAEL GOLDEN
variant cover by ARTHUR ADAMS
ONE-SHOT | ON SALE 09/29/20
CARD STOCK COVERS
$5.99 US | 48 PAGES | FC | DC
Perpetua, mother of all existence, has culled all life and creation in the Multiverse, condensing all beings to one planet: Earth-Prime. In her quest for power and dominance, she rules absolutely and in totality, using her children—the Monitors and Anti-Monitors—as her heralds and destructors. But a group of heroes has banded together across multiple worlds in a last-ditch effort to stop her from destroying all of existence: Owlman, President Superman, Iris West, Captain Carrot, Guy Gardner, and others have chosen to make their final stand in a battle they're destined to lose!
JUSTICE LEAGUE #52
written by JEFF LOVENESS
art by ROBSON ROCHA
cover by CULLY HAMNER
variant cover by NICK DERINGTON
ON SALE 09/01/20
$3.99 US | 32 PAGES | FC | DC
"The Garden of Mercy" part two of two! For the first time, the Justice League explores the planet of the Black Mercy's origin. One flower is enough to incapacitate even the strongest hero, but with an entire planet full of them, the Justice League must steel their minds or else succumb to the withering effects of the great tree at the core. With Batman unable to cope, can Superman, Wonder Woman, the Flash, and Green Lantern survive the horrors of their souls?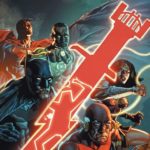 JUSTICE LEAGUE ANNUAL #2
written by ROBERT VENDITTI
art by AARON LOPRESTI and MATT RYAN
cover by MIKE PERKINS
ON SALE 09/29/20
$4.99 US | 48 PAGES | FC | DC
It's a locked-room murder mystery in the Hall of Justice! Superman, an investigative journalist; Batman, the World's Greatest Detective; the Flash; a CSI technician; Wonder Woman; a mystical detective for the Justice League Dark; and Green Lantern, an intergalactic police officer, must put their heroic minds together to solve the case. The Hall houses some of the greatest artifacts in the DC Universe—but also its deadliest. Who is the victim? Who is the culprit? And what is the motive? Can the Justice League put together the clues to solve the mystery before the murderer strikes again—and at them? Their lives depend on it!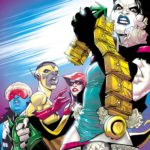 TEEN TITANS #45
written by ROBBIE THOMPSON
art by EDUARDO PANSICA
cover by BERNARD CHANG
variant cover by KHARY RANDOLPH
ON SALE 09/15/20
$3.99 US | 32 PAGES | FC | DC
After the shocking events of last month's Teen Titans Annual, Crush has been named the new leader of the Teen Titans. With Damian Wayne missing, can Crush hold the teen team together? And now that she's in charge, which villains will Lobo's daughter go after first? And will Red Arrow, Kid Flash, and Roundhouse follow their hotheaded new leader into battle?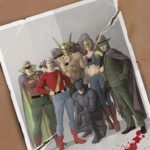 HAWKMAN #27
written by ROBERT VENDITTI
art by FERNANDO PASARIN and OCLAIR ALBERT
cover by MIKEL JANÍN
variant cover by SEBASTIAN FIUMARA
ON SALE 09/08/20
$3.99 US | 32 PAGES | FC | DC
Hawks reborn! Hawkman and Hawkwoman receive the precious gift of life one last time and return to the past where they were happiest—back with the Justice Society of America! But nostalgia's not all it's cracked up to be with the Injustice Society on the loose! And who's the mysterious figure plotting to cut Hawkman's final life short from the shadows?
YOUNG JUSTICE #18
written by BRIAN MICHAEL BENDIS and DAVID F. WALKER
art by SCOTT GODLEWSKI and MICHAEL AVON OEMING
cover by JOHN TIMMS
card stock variant cover by DERRICK CHEW
ON SALE 09/01/20
$3.99 US | 32 PAGES | FC | DC
CARD STOCK VARIANT COVER $4.99 US
At last, the coolest couple in the DCU gets the spotlight! Tim Drake and Stephanie Brown have sacrificed so much. For each other. For their families. For Young Justice. Now, Tim and Stephanie must take control of their destinies as Young Justice gathers together to help overcome their criminal pasts!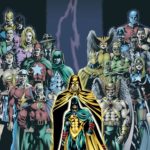 JSA BY GEOFF JOHNS BOOK FOUR TP
written by GEOFF JOHNS and DAVID GOYER
art by LEONARD KIRK, STEPHEN SADOWSKI, PATRICK GLEASON, KEITH GIFFEN, PETER SNEJBJERG, and others
cover by MICHAEL BAIR
ON SALE 10/20/20
$39.99 US | 352 PAGES | FC | DC
ISBN: 978-1-77950-561-3
Geoff Johns's epic JSA run continues as heroes from around the world are vanishing, the JSA is divided, and the team is vulnerable to the threat of Vandal Savage! In the Ultra-Humanite's latest world-conquering scheme, heroes from around the world—including members of the JSA—are vanishing, and those who remain must forge an unusual alliance with the Icicle to save the day. And with the JSA divided, handling multiple matters in different eras, several heroes find themselves in ancient Egypt, fighting the immortal villain Vandal Savage and an earlier incarnation of the powerful Black Adam. However, Power Girl and Dr. Mid-Nite also have their hands full with separate cases. Collects JSA #32-45.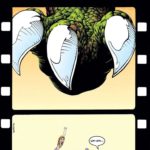 JUSTICE LEAGUE INTERNATIONAL OMNIBUS VOL. 2 HC
written by KEITH GIFFEN, J.M. DeMATTEIS, LEN WEIN, and others
art by ADAM HUGHES, MIKE McKONE, KEITH GIFFEN, BART SEARS, MARSHALL ROGERS, CHRIS SPROUSE, and others
cover by BART SEARS
ON SALE 11/03/20
$125.00 US | 1,192 PAGES | 7.0625" x 10.875" | FC | DC
ISBN: 978-1-77950-296-4
The "bwa-ha-ha" era continues as the writing team of Keith Giffen and J.M. DeMatteis is joined by artists including Adam Hughes, Mike McKone, and more! In these issues, Blue Beetle and Booster Gold open "Club JLI," G'nort takes center stage against the Scarlet Skier, Martian Manhunter and Guy Gardner battle Despero, the Justice League International teams up with Justice League Europe, plus much more! Collects Justice League America #31-50, Justice League America Annual #4, Justice League Quarterly #1, Justice League Europe #7-25, Justice League Europe Annual #1, and Justice League International Special #1.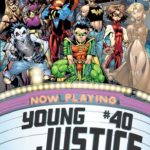 YOUNG JUSTICE BOOK FIVE TP
written by PETER DAVID
art and cover by TODD NAUCK and LARY STUCKER
ON SALE 10/20/20
$34.99 US | 344 PAGES | FC | DC
ISBN: 978-1-77950-221-6
The original incarnation of Young Justice comes to a close with the next volume from Peter David and Todd Nauck! In this volume, the team takes a terrifying trip to Apokolips as part of "Our Worlds at War," and find themselves in the crossfire of "Joker's Last Laugh"! Plus, the Ray joins the team, Wonder Girl takes the lead, and the secret behind Secret's past is revealed! Collects Young Justice #33-43, Young Justice: Our Worlds at War #1, and pages from Impulse #77, and Superboy #91.
Share