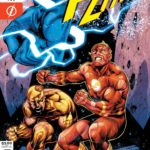 DC has posted four preview pages for next week's issue of The Flash, and you can see them at CBR. In the preview, things go from bad to worse when Barry and his allies are banished to Paradox's dimension. Check out the pages at the link!
THE FLASH #755
written by JOSHUA WILLIAMSON
art and cover by RAFA SANDOVAL and JORDI TARRAGONA
colors by ARIF PRIANTO
letters by STEVE WANDS
variant cover by MATTEO SCALERA
"The Flash Age" races to its stunning conclusion! Flash is forced to work side-by-side with his greatest foe as he teams up with the Reverse-Flash against his new foe, Paradox! But the damage Paradox did to the Flash legacy might be too much to undo!
ON SALE 06.09.20
$3.99 US | 32 PAGES
FC | DC
This issue will ship with two covers.
Please see the order form for details.
Share