DC has posted their solicitations for October 2020, and here are all the ones relating to the Flash. With these solicits, they've also announced the new creative team for the solo Flash book: Kevin Shinick as writer, and Clayton Henry on art. Their run begins that month, and kicks off with a couple of Rogue stories. Dr Alchemy has scarcely been seen since before Flashpoint.
You can see the solicitations in full at Newsarama.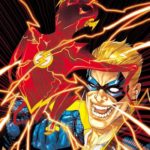 THE FLASH #763
written by KEVIN SHINICK
art by CLAYTON HENRY
cover by BERNARD CHANG
variant cover by INHYUK LEE
Wonder Woman 1984 variant cover by NICOLA SCOTT
ON SALE 10/13/20
$3.99 US | 32 PAGES | FC | DC
The secret history of Barry Allen's Flash ring is revealed as the Scarlet Speedster tangles with the Trickster in a tale that starts out as fun and games but ends with a last-page cliffhanger no reader will see coming. Don't skip to the end! Don't spoil it for friends! Don't miss this inaugural issue of The Flash by the new series team of writer Kevin Shinick and rising-star artist Clayton Henry.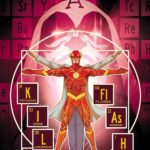 THE FLASH #764
written by KEVIN SHINICK
art by CLAYTON HENRY
cover by BERNARD CHANG
variant cover by INHYUK LEE
ON SALE 10/27/20
$3.99 US | 32 PAGES | FC | DC
Sitting idle in Iron Heights Prison for years, Dr. Alchemy found the time and knowledge he needed to finally beat the Flash once and for all. In a battle of wits and scientific knowledge as much as speed or power, Barry Allen must confront one of the Flash's most dangerous foes before the good doctor becomes a god.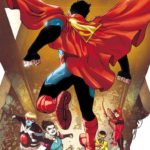 TEEN TITANS #46
written by ROBBIE THOMPSON
art by EDUARDO PANSICA
cover by BERNARD CHANG
card stock variant cover by PEACH MOMOKO
ON SALE 10/20/20
$3.99 US | 32 PAGES | FC | DC
CARD STOCK VARIANT COVER $4.99 US
With Damian Wayne renouncing his role as Robin and leaving the Teen Titans behind, Jon Kent returns from the future and the Legion of Super-Heroes to ask the remaining Titans some tough questions about his best friend. And when Superboy asks questions—he demands answers.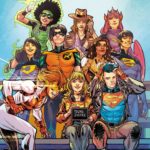 YOUNG JUSTICE #19
written by BRIAN MICHAEL BENDIS and DAVID F. WALKER
art by SCOTT GODLEWSKI
cover by JOHN TIMMS
variant cover by DARKO LaFUENTE
ON SALE 10/6/20
$3.99 US | 32 PAGES | FC | DC
Wonder Girl calls Young Justice together to help her with a family problem. Seems the pantheon of Greek gods is having a hard time with some of Cassie's choices. She's taking a stand to change rules as old as the heavens! And she is going to need her team by her side to do it.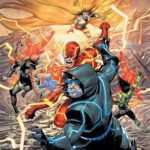 THE FLASH VOL. 13: ROGUES REIGN TP
written by JOSHUA WILLIAMSON
art by RAFA SANDOVAL and CHRISTIAN DUCE
cover by RAFA SANDOVAL
ON SALE 11/17/20
$17.99 US | 152 PAGES | FC | DC
ISBN: 978-1-77950-577-4
The Speed Force is dead, doom has gripped the Earth, and the Flash lives in a nightmare! Powered up by Lex Luthor's offer, Captain Cold led his team to their ultimate victory over Central City. The Rogues have reshaped reality itself into their own kingdoms of cruelty—Heat Wave's volcanic territory, Weather Wizard's floating armory of the elements, and at the center of it all, the icy castle of Captain Cold. But there is hope in the darkness, as the Flash battles his way back from the brink and discovers a way to reverse the Rogues' reign once and for all. But with his powers out of control, can he outrun the inevitable? Collects The Flash #82-87.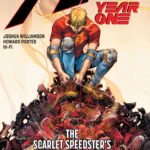 THE FLASH: YEAR ONE TP
written by JOSHUA WILLIAMSON
art and cover by HOWARD PORTER
ON SALE 11/17/20
$17.99 US | 152 PAGES | FC | DC
ISBN: 978-1-77950-576-7
Go back to the very beginning of Barry Allen's heroic journey in The Flash: Year One! Barry Allen feels helpless in his life in Central City. As a forensic scientist, he's always catching criminals after they've committed their crimes. All that changes one fateful night when Barry is struck by a bolt of lightning and doused in chemicals. When he wakes from a coma, he realizes he can run at incredible speeds. Can Barry master these powers and be the hero his city needs…or will the powers burn through him? Collects The Flash #70-75.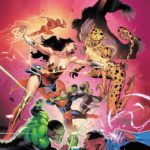 JUSTICE LEAGUE BY SCOTT SNYDER BOOK TWO DELUXE EDITION HC
written by SCOTT SNYDER and JAMES TYNION IV
art by JORGE JIMENEZ, JIM CHEUNG, JAVIER FERNANDEZ, FRANCIS MANAPUL, STEPHEN SEGOVIA, PASQUAL FERRY, and DANIEL SAMPERE
cover by JORGE JIMEMEZ
ON SALE 12/1/20
$39.99 US | 344 PAGES | 7.0625" x 10.875" | FC | DC
ISBN: 978-1-77950-584-2
Scott Snyder reunites the World's Greatest Heroes for epic journeys to "Hawkworld" and "The Sixth Dimension" in the second deluxe edition hardcover of the superstar writer's Justice League run!
Martian Manhunter, John Stewart, and Hawkgirl take a trip to Thanagar-Prime, as J'onn looks to tap into the ancient Martian mental database, Green Lantern struggles while practicing his new UV powers, and Kendra searches for answers about her connection to the Totality.
Then, the Justice League has the map to the Sixth Dimension in hand—the key to saving the Multiverse from utter destruction! But with Superman trapped on a world with no light and hundreds of dead Supermen, Lex Luthor's Legion of Doom is poised for victory. The final form of Perpetua takes shape, and the DCU will never be the same again! Collects Justice League #14-25 and Annual #1.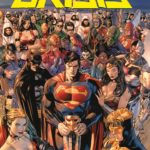 HEROES IN CRISIS TP
written by TOM KING
art by CLAY MANN, TRAVIS MOORE, LEE WEEKS, MITCH GERADS, and
JORGE FORNÉS
cover by CLAY MANN
ON SALE 11/24/20
$19.99 US | 240 PAGES | FC | DC
ISBN: 978-1-77950-303-9
There's a new kind of crisis threatening the heroes of the DC Universe, ripped from real-world headlines by CIA operative turned comics writer Tom King: How does a superhero handle PTSD?
Welcome to Sanctuary, an ultra-secret hospital for superheroes who've been traumatized by crime-fighting and cosmic combat. But something goes inexplicably wrong when many patients wind up dead, with two well-known operators as the prime suspects: Harley Quinn and Booster Gold! It's up to the DC Trinity of Superman, Wonder Woman, and Batman to investigate—but can they get the job done in the face of overwhelming opposition? This collected edition features the entire nine-issue miniseries!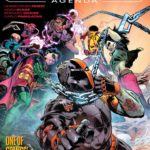 TEEN TITANS/DEATHSTROKE: THE TERMINUS AGENDA TP
written by CHRISTOPHER PRIEST and ADAM GLASS
art by BERNARD CHANG, CARLO PAGULAYAN, FERNANDO PASARIN, SERGIO DAVILA, POP MHAN, CAM SMITH, and others
cover by CARLO PAGULAYAN and JASON PAZ
RESOLICIT | ON SALE 11/3/20
$16.99 US | 160 PAGES | FC | DC
ISBN: 978-1-77950-236-0
The hunter becomes the hunted as the Teen Titans set out to end Deathstroke once and for all in these tales from Deathstroke #41-43 and Teen Titans #28-30. Deathstroke's body count has grown even higher after murdering his therapist en route to escaping from Arkham Asylum, which prompts Commissioner Gordon to expose Slade's identity as Deathstroke to the public! Now the world's most wanted criminal, the walls are closing in on Slade Wilson, and the Teen Titans lie in wait…Is there any hope of escape?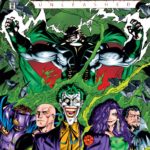 UNDERWORLD UNLEASHED: THE 25TH ANNIVERSARY TP
written by MARK WAID, PAUL KUPPERBERG, ALAN GRANT, ROGER STERN, and SCOTT PETERSON
art by HOWARD PORTER, PHIL JIMENEZ, J.H. WILLIAMS III, BRIAN STELFREEZE, and others
cover by HOWARD PORTER and DAN GREEN
ON SALE 11/17/20
$29.99 US | 304 PAGES | FC | DC
ISBN: 978-1-77950-578-1
The devil gets his due as demonically powered super-villains wreak havoc in this 25th-anniversary edition of the classic DC event! Neron, the ruler of hell, makes DC's villains—and heroes—an offer they can't refuse, dangling serious power upgrades at the cost of their souls. Who will say yes? Who will say no? And will the DC Universe ever be the same? Collects Underworld Unleashed #1-3, Underworld Unleashed: Abyss—Hell's Sentinel #1, Underworld Unleashed: Apokolips—Dark Uprising #1, Underworld Unleashed: Batman—Devil's Asylum #1, and Underworld Unleashed: Patterns of Fear #1.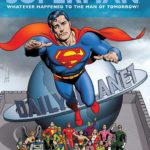 SUPERMAN: WHATEVER HAPPENED TO THE MAN OF TOMORROW? DELUXE 2020 EDITION HC
written by ALAN MOORE
art by CURT SWAN, KURT SCHAFFENBERGER, GEORGE PéREZ, MURPHY ANDERSON, RICK VEITCH, and DAVE GIBBONS
cover by BRIAN BOLLAND
ON SALE 12/22/20
$29.99 US | 128 PAGES | 7.0625″ x 10.875″
FC | DC
ISBN: 978-1-77950-489-0
Legendary writer Alan Moore's seminal Superman stories are collected in this deluxe edition featuring the two-part "Whatever Happened to the Man of Tomorrow?" from Superman #423 and Action Comics #583 as Superman faces his final battle! Also featuring the classic story "For the Man Who Has Everything" from Superman Annual #11 in which Superman, Batman, Robin, and Wonder Woman battle Mongul. And in DC Comics Presents #85, Superman crosses paths with Swamp Thing!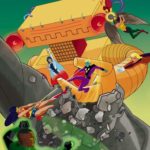 JUSTICE LEAGUE UNLIMITED: TIME AFTER TIME TP
written by ADAM BEECHEN, STUART MOORE, JASON HALL, and STEVE VANCE
art by CARLO BARBERI, GORDON PURCELL, TIM LEVINS, MIN S. KU, and JOHN DELANEY
cover by TOM FEISTER
ON SALE 11/3/20
$9.99 US | 160 PAGES | 5.5″ x 8″
FC | DC
ISBN: 978-1-77950-724-2
No matter where—or when—evil hides, the Justice League is ready to defeat it! This collection of all-ages stories set in the animated world of Justice League Unlimited include a trip to the future where our heroes team up with the Legion of Super-Heroes to try to defeat Kilg%re! The Justice League also travel to medieval Camelot—helping Shining Knight defend his kingdom from Morgan Le Fey and her evil army! And it's a trip to the Wild West as Wonder Woman, Elongated Man, and Vigilante enlist the help of Jonah Hex, Bat Lash, and El Diablo to go up against the Time Commander! Collects Adventures in the DC Universe #10, Justice League Adventures #28, #30, and #34, and Justice League Unlimited #9 and #19.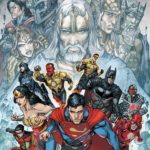 INJUSTICE: GODS AMONG US OMNIBUS VOL. 2 HC
written by BRIAN BUCCELLATO, CHRISTOPHER SEBELA, and TOM TAYLOR
art by BRUNO REDONDO, JUAN ALBARRAN, TOM DERENICK, XERMANICO, SERGIO SANDOVAL, IBAN COELLO, MARCO SANTUCCI, POP MHAN, DANIEL SAMPERE, JHEREMY RAAPACK, MIGUEL MENDONÇA, and others
cover by HOWARD PORTER
ON SALE 12/15/20
$125.00 US | 1,104 PAGES | 7.0625" x 10.875" | FC | DC
ISBN: 978-1-77950-468-5
The epic and brutal Injustice saga continues in this omnibus collection based on the bestselling video game, bringing the complete Year Four, Year Five, and Ground Zero stories together in one volume! When Superman and the Justice League declared themselves the ultimate authority on planet Earth, only Batman stood against them. For years, the former friends and allies have fought bitterly, with casualties on both sides. Now, at an impasse, both Batman and Superman realize that to gain ground in their battle, they'll have to do the unthinkable: recruit their former enemies to attack their former friends. Plus, Injustice: Ground Zero bridges the gap between the Injustice and Injustice 2 games! Collects Injustice: Gods Among Us Year Four #1-12, Injustice: Gods Among Us Year Four Annual #1, Injustice: Gods Among Us Year Five #1-20, Injustice: Gods Among Us: Year Five Annual #1, and Injustice: Ground Zero #1-12.
Share