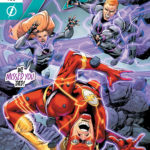 DC has posted four preview pages for this week's issue of The Flash, and you can see them at Comic Watch. The preview shows the aftermath of the co-ordinated attack seen at the end of last issue, and it's clear that the Legion of Zoom is thus far toying with Barry. Check it out at the link.
THE FLASH #758
written by JOSHUA WILLIAMSON
art and cover by RAFA SANDOVAL and JORDI TARRAGONA
variant cover by INHYUK LEE
"Legion of Zoom" part two! Central City is reeling from the recent attack, and Barry Allen lies broken and helpless! To uncover his foes' next target, the Flash must solve a mystery from his past…but before he can, he's attacked by the corrupted Tornado Twins—his children from the future!
ON SALE 06.24.20
$3.99 US | 32 PAGES
FC | DC
This issue will ship with two covers.
Please see the order form for details.
Share