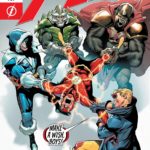 DC has posted several preview pages for next week's issue of The Flash, and you can see them at Comicon.com. In the preview, Barry ruminates about the imminent danger posed to his loved ones by the Reverse Flash, only to realize he's missed his promised quality time with them. Check it out at the link.
THE FLASH #757
written by JOSHUA WILLIAMSON
art by HOWARD PORTER
cover by RAFA SANDOVAL and JORDI TARRAGONA
variant cover by INHYUK LEE
Wonder Woman 1984 variant cover by NICOLA SCOTT
"Legion of Zoom" part one! As the Flash's greatest enemies—Gorilla Grodd, the Turtle, Trickster, and Captain Cold—attack Central City at the same time, the Fastest Man Alive finds he's not fast enough to stop them all or save everyone in danger!
ON SALE 06.10.20
$3.99 US | 32 PAGES
FC | DC
This issue will ship with three covers.
Please see the order form for details.
Share