DC has posted the full complement of solicitations for November 2020, and here are all the ones relating to the Flash. It will be a month of change, as several Flash-related titles like Young Justice and Teen Titans are having their final issues, though it's not clear what will happen to Impulse and Kid Flash afterwards. The core Flash title continues with new writer Kevin Shinick.
You can see the solicits in full at Newsarama.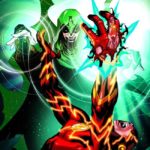 THE FLASH #765
written by KEVIN SHINICK
art by CLAYTON HENRY
cover by BERNARD CHANG
variant cover by INHYUK LEE
ON SALE 11/10/20
$3.99 US | 32 PAGES | FC | DC
Dr. Alchemy takes another step closer to unstoppable power and immortality as he devises a way to combine himself with the power of the Philosopher's Stone. The Flash will have to discover that being faster than his foe may not be enough!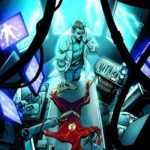 THE FLASH #766
written by KEVIN SHINICK
art by CLAYTON HENRY
cover by BERNARD CHANG
variant cover by INHYUK LEE
ON SALE 11/24/20
$3.99 US | 32 PAGES | FC | DC
In the final showdown with Dr. Alchemy, the Flash's powers prove almost useless and his intellect outmatched! How can Barry Allen beat a foe who thinks three steps ahead? The Fastest Man Alive will have to play catchup—but it may not be enough to save himself or Central City.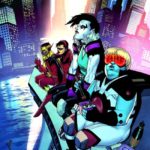 TEEN TITANS #47
written by ROBBIE THOMPSON
art by JAVIER FERNANDEZ
cover by BERNARD CHANG
ON SALE 11/17/20
$3.99 US | 32 PAGES | FC | DC
FINAL ISSUE
Robin betrayed them. Superboy abandoned them. Now the only Teen Titans left are Crush, Kid Flash, Red Arrow, and Roundhouse. As the teen heroes wrap up what may be their final mission, they're going to get some unexpected encouragement from a group that knows a little about how hard it is to be heroes. Special guest stars the original Titans prove there may still be some good this team can do in the future.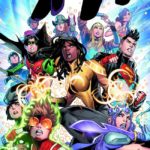 YOUNG JUSTICE #20
written by BRIAN MICHAEL BENDIS and DAVID F. WALKER
art by SCOTT GODLEWSKI
cover by JOHN TIMMS
card stock variant cover by DERRICK CHEW
ON SALE 11/3/20
$3.99 US | 32 PAGES | FC | DC
CARD STOCK VARIANT COVER $4.99
FINAL ISSUE
For the first time in months, the entire Young Justice team comes together to face a threat bigger than anything they've faced before. Just as the team has come to grips with their fractured legacy, someone from Young Justice's past has come back to murder them! Guest-starring the Wonder Twins, Dial H for Hero, and Naomi—plus some other Wonder Comics surprises too hot to mention here! Don't miss this final issue from the Eisner Award-nominated co-writers of Naomi!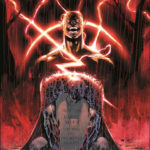 TALES FROM THE DARK MULTIVERSE: FLASHPOINT #1
written by BRYAN HITCH
art by BRYAN HITCH
cover by DAVID MARQUEZ
ONE-SHOT | PRESTIGE FORMAT
ON SALE 11/17/20
$5.99 US | 48 PAGES | FC | DC
Spinning out of the events of a world where a single choice by the Flash affected the entire DC Universe, find out what would have happened if Barry Allen had not put things right. In a world where the Flashpoint reality was never undone, where Thomas Wayne still haunts Gotham City as the Batman, and the Amazonian and Atlantean armies still prepare for war, will the Reverse-Flash embrace this darker, deadlier world and finally eclipse Barry Allen's legacy?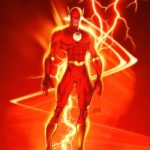 THE FLASH BY GEOFF JOHNS OMNIBUS VOL. 2 HC
written by GEOFF JOHNS
art by SCOTT KOLINS, HOWARD PORTER, ALBERTO DOSE, and others
cover by MICHAEL TURNER
ON SALE 1/19/21
$99.99 US | 872 PAGES | FC | DC
7.0625″ x 10.875″
ISBN: 978-1-77950-750-1
Geoff Johns brought new life to the Flash and his Rogues during his years writing the Scarlet Speedster, and this omnibus collects the second half of his stint on the series, highlighted by the onslaught of new nemesis Hunter Zolomon—a.k.a. Zoom!
This collection also includes a trip to Gorilla City, turmoil among the Rogues, and a meet-up with Wonder Woman, as the Cheetah and Zoom team up against our heroes! It all leads to "Rogue War," as the Flash's greatest enemies battle each other, and Zoom's final—and very personal attack—against Wally! Collects The Flash #192-225, Wonder Woman #214, and The Flash: The Secret of Barry Allen #1.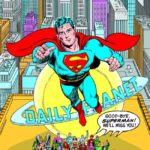 DC THROUGH THE '80S: THE END OF ERAS HC
written and illustrated by VARIOUS
cover by CURT SWAN and MURPHY ANDERSON
ON SALE 12/15/20
$49.99 US | 520 PAGES | FC | DC
ISBN: 978-1-77950-087-8
The '80's were a truly rad time for comic books. DC was killing it with groundbreaking titles like Man of Steel, Batman: The Dark Knight Returns, and Watchmen. This collection, curated by writer and former DC publisher Paul Levitz, celebrates the pre-Crisis on Infinite Earths era of the early 1980s with memorable adventures including Alan Moore and Curt Swan's poignant "Whatever Happened to the Man of Tomorrow?," both Batman and Superman teaming with their Golden Age equivalents in separate stories, Wonder Woman and Steve Trevor versus gremlins, and more. Collects Action Comics #583, Detective Comics #500, The Flash #296-298, Jonah Hex #54-55, Superman #423, House of Mystery #286, #290, #294-295, #300, #308, #321, Warlord #42, Wonder Woman #311-312, The Brave and the Bold #200, Weird War Tales #93, Time Warp #2 and #3, G.I. Combat #288, Blackhawk #258, DC Comics Presents Annual #1, Super Friends #36, and Sgt. Rock #345, #347, #368, and #387. Also includes new essays on this amazing era from such comics luminaries as Jack C. Harris, Elliot S! Maggin, J.M. DeMatteis, Andy Kubert, and more, and features the complete text of Alan Moore's legendary, never-before-published Twilight proposal!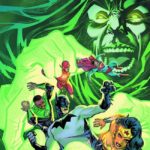 JUSTICE LEAGUE: VENGEANCE IS THINE TP
written by ROBERT VENDITTI
art by DOUG MAHNKE, AARON LOPRESTI, XERMANICO, EDDY BARROWS, and others
cover by FRANCIS MANAPUL
ON SALE 12/8/20
$19.99 US | 232 PAGES | FC | DC
ISBN: 978-1-77950-589-7
The next chapter for comics' premier super-team begins! An unexpected arrival from the stars brings a dire warning to the Justice League: a new breed of conquerors is on the march. Led by Superman's nemesis the Eradicator, a genetically engineered, super-powered strike team has come to subjugate Earth. To aid the Justice League, Batman makes the unprecedented decision to enlist an ancient, unrivaled power, which calls into question who, exactly, is in charge. With the League on unsure footing, will they be ready to save the world? Collects Justice League #40-47 and Justice League Annual #2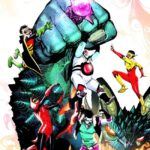 TEEN TITANS VOL. 4: DJINN WARS TP
written by ADAM GLASS and ROBBIE THOMPSON
art by EDUARDO PANSICA, JULIO FERREIRA, and JAVIER FERNANDEZ
cover by BERNARD CHANG
ON SALE 12/1/20
$16.99 US | 176 PAGES | FC | DC
ISBN: 978-1-77950-668-9
The Djinn War has begun! Trapped in her ring with no escape, Djinn finds herself on the inside looking out as the Teen Titans go hunting for her older brother Elias, the only one capable of saving her. But Elias's dark side is the stuff of legends…and the Teen Titans know he can't be trusted. The team has a plan to bust Djinn out of purgatory—and the path goes through hell itself. But how do you get to hell, you ask? Simple…you only have to die! Collects Teen Titans #39-44 and Teen Titans Annual #2.
THE TERRIFICS VOL. 4: THE TOMORROW WAR TP
written by GENE LUEN YANG
art by STEPHEN SEGOVIA, SERGIO DAVILA, VICENTE CIFUENTES, DAN MORA, MAX RAYNOR, and CARLO BARBERI
cover by DAN MORA
ON SALE 12/22/20
$16.99 US | 304 PAGES | FC | DC
ISBN: 978-1-77950-608-5
Eisner Award-winning writer Gene Luen Yang brings the tales of the Terrifics to a time-twisting climax in this collection! Bizarro, frustrated with technological progress that never seems to end, has decided that he has had enough. And with the help of a time machine gifted to him by Lex Luthor, he decides to make the world a better place, Bizarro style. Will the Terrifics be caught in Bizarro's distorted reality? Or will they be able to navigate the future…and past…to stop him? Includes a special "choose your own destiny" adventure! Collects The Terrifics #19-30.
Share