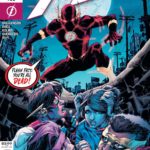 DC has posted four preview pages from next week's issue of The Flash, and you can see them at Adventures In Poor Taste. In the preview, Barry's still attempting to reclaim his body, and the Reverse Flash finds he's outnumbered by the Flash Family. He will undoubtedly try to tip the odds further in his favour with more allies. Check it out at the link!
THE FLASH #760
written by JOSHUA WILLIAMSON
art by CHRISTIAN DUCE
cover by HOWARD PORTER
variant cover by INHYUK LEE
"Finish Line" part two of four! After years of manipulation, the Reverse-Flash has at last destroyed the Flash Family! But they aren't going down without a fight as they race together to save the soul of Barry Allen! Can the return of allies from the Flash's past be enough to stop the Reverse-Flash?
ON SALE 08.25.20
$3.99 US | 32 PAGES
FC | DC
This issue will ship with two covers.
Share