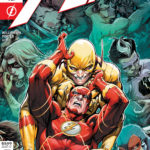 DC has posted four official preview pages for this week's issue of The Flash, and you can see them at CBR. In the preview, Barry and the newly-reunited Flash Family face down the Reverse Flash's significantly expanded Legion of Zoom! Check it out at the link.
THE FLASH #761
written by JOSHUA WILLIAMSON
art and cover by HOWARD PORTER
variant cover by INHYUK LEE
ON SALE 09/08/20
$3.99 US | 32 PAGES | FC | DC
"Finish Line" part three! It's the Flash Family versus the Legion of Zoom! Witness the biggest battle in Flash history as the two sides go head-to-head for the fate of the future! Can the Flash stop the unstoppable Reverse-Flash from dragging him down into a personal hell Barry Allen can never escape?!
Share