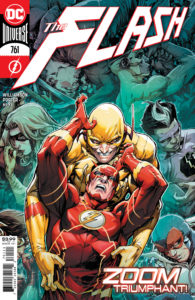 I've just about run out of superlatives for this arc. One his way out of a 100+ issue run on THE FLASH, writer Joshua Williamson keeps upping the ante. If you think he threw everything but the kitchen sink at this story…hold on to your hats because it gets even grander in scale here! This story arc gives us everything any Flash fan of any era has ever loved about their favorite speedster(s). Wanna know more? Follow us after the jump!
MILD SPOILERS AHEAD!
Okay, as with last issue I'm not gonna spoil very much here. It would be a shame for me to do that. You deserve the experience of geeking out when you read it for yourself. Here's what I can tell you…
This issue is narrated by none other than John Fox. I've been wondering when we would see hiim. He is talking to the latest Kid Flash about the day this huge battle was fought.
As you saw in last issue, foes from every era of every Flash are being called in to fight alongside Eobart Thawne. It's a battle to end all battles.
The story will give us plenty of page time for some non-Barry speedsters, nailing their personalities and best attributes. That plays into how this battle turns out.
The battle turns when some more people come into play…and you'll have to grab the issue to see this. I may have had something in my eye when this happened. Just sayin'.
You will learn a lot more about what Thawne has been doing throughout time. It slightly retcons a few things…but I'm actually glad to see that happening. That's particularly true in one instance (I'll let you guess which one).
If you think any resolution to this battle wraps things up – if you thought next issue would just be epilogue…think again! We have a real cliffhanger that has been left for issue #762!
One note about the artwork – Howard Porter nailed this issue. There were SO many characters to bring in, and every panel was pure gold! Kudos to Porter, to Hi-Fi for the fantastic colors and to Steve Wands for a stellar job on lettering.
SUMMARY: We will be talking about THIS arc for years. It looks to be one of the most important stories in Flash lore, and it is nothing short of amazing! This is easily a 10/10 for me. Of course, that's my opinion. What do YOU think? Leave your comments below!
Share