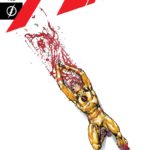 DC has posted four preview pages for next week's issue of The Flash, and you can see them at Herodope. It's the finale of Joshua Williamson's lengthy stint on the book, and this race is the culmination of intensifying hostilities between the Flash and Reverse Flash. It's difficult to know how Barry will react to Thawne's ultimatum, considering that his principles against killing have recently been eroded by the Reverse Flash's increasing violence…and the cover is definitely ominous. Check out the pages at the link!
THE FLASH #762
written by JOSHUA WILLIAMSON
art and cover by HOWARD PORTER
variant cover by INHYUK LEE
ON SALE 09/22/20
$3.99 US | 32 PAGES | FC | DC
"Finish Line" finale! Barry Allen and the Reverse-Flash race for the last time in this fast-paced conclusion. For years, Eobard Thawne has tormented Barry Allen, and now the Flash knows the only way to win is to make sure the Reverse-Flash never runs again! The story years in the making comes to a close as Joshua Williamson finishes his epic 101-issue run on The Flash!
Share