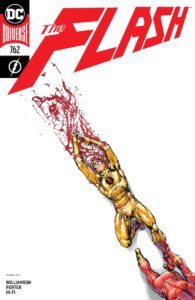 Joshua Williamson concludes one of the most consequential runs on this title that I've seen in my 50+ years of reading THE FLASH. There is an almost "Whatever Happened to the Man of Steel" feel to parts of this (think the last Silver Age Superman story by Alan Moore). And, it gives us a perfect ending…and beginning to hand off the baton to the next creative team. It's the final battle with the Reverse-Flash. Will Barry repeat what he did just before COIE and kill his greatest enemy? Will Barry survive the fight? Or, will he be lost in the Speed Force for all time? Wanna know more? Follow us after the jump!
SOME SPOILERS AHEAD!
Just as with some recent issues, we aren't going to spoil much here. The story is just too good, and you really should read it for yourself. We will, however, give away a key point or two, so be warned…
Despite what you see on the main cover, Barry does not kill Thawne. That's not without a lot of baiting by Thawne, who seems to have a death wish. This battle within the Speed Force gives us a most unusual twist…
Barry forgives Thawne. 
You read that right. Barry knows that the only way to move on is to let go of the hate that has been driving him. And, he's right. Thawne attempts one last barrage, but there is a twist to what Barry does that changes everything. Thawne isn't dead…but he is different now. And, it resets a lot of things for the better.
The issue goes on to show just what has changed for the better, even while recognizing that there are still tough times ahead for everyone. A lot of the terrible things we've seen in the most recent incarnation of Thawne are rectified…but not everything has changed in the long history of this battle of speedsters. You'll have to read to see what did and did not make the cut for "making things right".
In the end, we get one more look at what Williamson has done for The Flash – a get together of (nearly all of) the Flash family. And, we get one more heartfelt moment that explains who Barry really is and what his motivation is as a hero. It's touching and beautiful…and I loved how this wrapped up.
One note here – Howard Porter's art is outstanding! So glad Porter was on this last issue by Williamson.
NOTES:
We're doing something a little different for the notes this time. Let's talk Williamson's time on this title. And, I may risk a little hyperbole here, but I truly believe this: What Mark Waid did for Wally, and what Geoff Johns did for Flash Rebirth, Joshua Williamson has done for the whole Flash family. We've seen the welcome return of long-lost characters. We've seen new additions to Flash lore that have been huge hits with Flash fans. We seen some things made right that Flash fans truly needed to see. And in this last arc, Williamson has written a love letter to a franchise that should warm the heart of every fan. As a fan of all things Flash for over 50 years…Thank you Joshua Williamson for what you have done for THE FLASH!
SUMMARY:
Let's give a score that fits the entire 101 issues…10/10 with a thank-you to Williamson! Of course, that my opinion. What do YOU think? Leave your comments below!
Share