DC has released their full complement of solicitations for January 2021, and here are all the ones relating to the Flash. It's an unusual month, as the core books have been replaced by the Future State event, which apparently will run through February. There are one or two new female Flashes "from the Multiverse", at least one of which runs on prosthetic legs. And there's a story which features the Flash Family having to rescue Wally West. Check them out below.
You can see the solicits in full at CBR.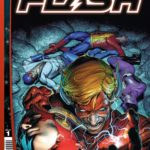 FUTURE STATE: THE FLASH #1
written by BRANDON VIETTI
art by DALE EAGLESHAM
cover by BRANDON PETERSON
card stock variant cover by KAARE ANDREWS
ON SALE 1/5/21
$3.99 US | 32 PAGES | 1 OF 2 | FC | DC
CARD STOCK COVER $4.99 US
With no powers, no backup and no other choice, Barry Allen and the other former Flashes face the deadliest threat they've ever encountered —- Wally West. Possessed by an evil force trapped for thousands of years inside the Speed Force, Barry turns to his greatest foes' weapons to save the young man he loves like a son. In the end, how much will Barry sacrifice to save the former Kid Flash?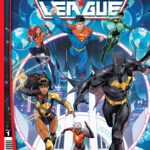 FUTURE STATE: JUSTICE LEAGUE #1
"Justice League" written by JOSHUA WILLIAMSON
"Justice League" art by ROBSON ROCHA and DANIEL HENRIQUES
"Justice League Dark" written by RAM V
"Justice League Dark" art by MARCIO TAKARA
cover by DAN MORA
card stock variant cover by KAEL NGU
ON SALE 1/12/21
$5.99 US | 48 PAGES | 1 of 2 | FC | DC
CARD STOCK VARIANT COVER $6.99 US
Witness the start of a new era for the Justice League starring Jonathan Kent as Superman, Yara Flor as Wonder Woman, Jo Mullein as Green Lantern, Andy Curry as Aquawoman, a new Flash from the Multiverse, and [REDACTED] as Batman! Together, they protect the future, yet apart, their identities are secret even from one another—but why? When their greatest adversaries wind up murdered in an abandoned Hall of Justice, all clues point to…the Justice League! The new team's adventures begin here!
And in a new tale of the Justice League Dark, a witch hunt across the DC Universe begins as magic users are harvested and executed—and the team is on the run! Zatanna and Detective Chimp (now possessed by Etrigan) must round up new and old teammates, including John Constantine, Ragman, and Madame Xanadu. Their mission? To battle the power-mad Crow King, Merlin, before his plans for magical domination destroy the fabric of reality. But where is Dr. Fate? And what led the team to disband in the first place? Discover the truth here!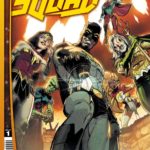 FUTURE STATE: SUICIDE SQUAD #1
"Suicide Squad" written by ROBBIE THOMPSON
"Suicide Squad" art by JAVI FERNANDEZ
"Black Adam" written JEREMY ADAMS
"Black Adam" art by FERNANDO PASARIN
cover by JAVI FERNANDEZ
card stock variant cover by DERRICK CHEW
ON SALE 1/26/21
$5.99 US | 48 PAGES | 1 OF 2 | FC | DC
CARD STOCK COVER $6.99 US
The Suicide Squad enters the Future State era as Amanda Waller uses Task Force X to save the world and remake it in her image—but what happens when the team shows up to stop her?
And in the second story in this extra-sized issue, Black Adam, the immortal one-time champion of the wizard Shazam, rules the planet Kahndaq in the 853rd century. Can he save the future from a threat rooted in the past?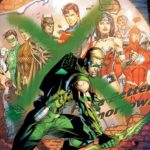 GREEN ARROW: 80 YEARS OF THE EMERALD ARCHER THE DELUXE EDITION
stories and art by various
new cover by JIM LEE and SCOTT WILLIAMS
ON SALE 3/23/21
$29.99 US | $39.99 CAN
416 PAGES | 7.0625″ x 10.875″ | FC | DC
HARDCOVER
ISBN: 978-1-77950-914-7
Green Arrow celebrates 80 years of adventure with this new hardcover collection of his greatest tales! These era-spanning stories include Oliver Queen's first appearance from 1941, along with the legendary anti-drug "Snowbirds Don't Fly" by Dennis O'Neil and Neal Adams. Plus, the opening chapter of Mike Grell's storied "The Longbow Hunters," a pivotal Justice League adventure starring second Green Arrow Connor Hawke, an untold tale from the hero's TV adventures, and much more. Collects More Fun Comics #73, Adventure Comics #246 and #259, Green Lantern #85 and #86, Green Arrow: The Longbow Hunters #1, Green Arrow #100-101 (1994), JLA #8-9, Green Arrow #1, #17, and #75 (2001), Green Arrow and Black Canary #4, Secret Origins #4 (2014), Arrow: Season 2.5 #1, and Green Arrow: Rebirth #1.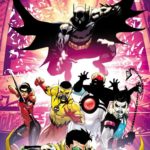 TEEN TITANS VOL. 4: ROBIN NO MORE
written by ADAM GLASS and ROBBIE THOMPSON
art by EDUARDO PANSICA, JULIO FERREIRA, and JAVIER FERNANDEZ
cover by BERNARD CHANG
RESOLICIT | ON SALE 2/16/20
$19.99 US | $25.99 CAN
256 PAGES | FC | DC | TRADE PAPERBACK
ISBN: 978-1-77950-668-9
As this collection begins, Djinn is trapped in her ring with no escape while the Teen Titans go hunting for her older brother Elias, the only one capable of saving her. But Elias's dark side is the stuff of legends…and the Teen Titans know he can't be trusted. Then, with Robin gone and Mercy Hall shut down, can there still be a Teen Titans? And while Damian hunts the KGBeast, the team is on his trail—and they're determined to find him before Batman does! Collects Teen Titans #39-47 and Teen Titans Annual #2.
This title was previously solicited as Teen Titans Vol. 4: Djinn Wars.
Share