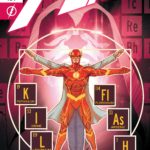 DC has posted four preview pages for next week's issue of The Flash, and you can see them at Adventures In Poor Taste. In the preview, Doctor Alchemy has escaped from Iron Heights again, and Barry encounters him for the first time in ages. Check it out at the link!
THE FLASH #764
written by KEVIN SHINICK
art by CLAYTON HENRY
cover by BERNARD CHANG
variant cover by INHYUK LEE
ON SALE 10/27/20
$3.99 US | 32 PAGES | FC | DC
Sitting idle in Iron Heights Prison for years, Dr. Alchemy found the time and knowledge he needed to finally beat the Flash once and for all. In a battle of wits and scientific knowledge as much as speed or power, Barry Allen must confront one of the Flash's most dangerous foes before the good doctor becomes a god.
Share