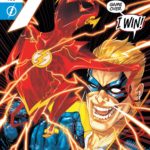 DC has posted four pages from next week's issue of The Flash, and you can see them at Adventures In Poor Taste. This is the first issue of the post-Williamson era, and it's a story about the Flash's ring and the Trickster by new writer Kevin Shinick. His ring has…gone missing? Check it out at the link!
THE FLASH #763
written by KEVIN SHINICK
art by CLAYTON HENRY
cover by BERNARD CHANG
variant cover by INHYUK LEE
Wonder Woman 1984 variant cover by NICOLA SCOTT
ON SALE 10/13/20
$3.99 US | 32 PAGES | FC | DC
The secret history of Barry Allen's Flash ring is revealed as the Scarlet Speedster tangles with the Trickster in a tale that starts out as fun and games but ends with a last-page cliffhanger no reader will see coming. Don't skip to the end! Don't spoil it for friends! Don't miss this inaugural issue of The Flash by the new series team of writer Kevin Shinick and rising-star artist Clayton Henry.
Share