DC has posted their full complement of solicitations for May 2021, and here are all the ones relating to the Flash. That month sees more of Wally West's time-travelling adventure, as well as a crossover involving a young speedster in Teen Titans Academy and Suicide Squad.
You can see the solicits in their entirety at CBR.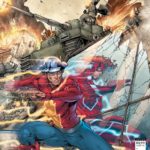 THE FLASH #770
written by JEREMY ADAMS
art by JACK HERBERT and BRANDON PETERSON
cover by BRANDON PETERSON
card stock variant cover by BRETT BOOTH
ON SALE 5/18/21
$3.99 US | 32 PAGES | FC | DC
CARD STOCK VARIANT COVER $4.99 US
Dropped into the battlefields of World War II, Wally West continues his search for a way home. As the Fastest Man Alive comes face to face with the Führer himself, Wally's friends in the present day search for a way to bring him back and an answer to why he's stuck leaping from speedster to speedster throughout time.
JUSTICE LEAGUE #61
written by BRIAN MICHAEL BENDIS
art and cover by DAVID MARQUEZ
backup story written by RAM V
backup story art by XERMANICO
card stock variant cover by KAEL NGU
ON SALE 5/18/21
$4.99 US | 40 PAGES | FC | DC
CARD STOCK VARIANT COVER $5.99 US
The new Justice League is trapped on a world devastated by a super-powered war, and Brutus hungers for a new home of his own—our Earth! With their powers gone haywire, the League must fight their way out of a post apocalyptic Thunderdome of depravity and desperation. On the run with Batman, Naomi learns more dark secrets of her birth world's broken legacy, while Hawkgirl and Black Canary battle through the henchmen trenches. But where are Superman and Black Adam, and what kind of trouble is Aquaman in? (Hint: it's bad.)
And in the Justice League Dark story, Ragman joins the hunt! Zatanna, Constantine, Etrigan, and Detective Chimp hit the books—literally—in a possessed library, as Merlin's plan takes shape before them…and spells doom for the universe.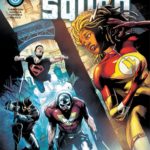 SUICIDE SQUAD #3
written by ROBBIE THOMPSON
art and cover by EDUARDO PANSICA
card stock variant cover by GERALD PAREL
ON SALE 5/4/21
$3.99 US | 32 PAGES | FC | DC
CARD STOCK VARIANT COVER $4.99 US
Don't miss this crossover with Teen Titans Academy!
Task Force X finds a new target, and it leads the clandestine team right to Teen Titans Academy. The devious and driven Amanda Waller continues her quest to form a more powerful Squad, and next on her list: the Titans' new speedster, Bolt. But when the mysterious Red X gets in the way, he becomes Waller's next target.
TEEN TITANS ACADEMY #3
written by TIM SHERIDAN
art and cover by RAFA SANDOVAL
card stock variant cover by PHILIP TAN
ON SALE 5/25/21
$3.99 US | 32 PAGES | FC | DC
CARD STOCK VARIANT COVER $4.99 US
Don't miss this crossover with Suicide Squad!
Hunted by the deadly Task Force X, the new students of Titans Academy will have to grow up fast or risk losing one of their own even faster. Why has the Squad put a target on new speedster Bolt's back? And why, in its charge on Titans Island, is Amanda Waller's team of villains being led by the mysterious Red X?!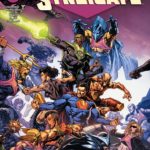 CRIME SYNDICATE #3
written by ANDY SCHMIDT
art by KIERAN McKEOWN
backup story art by BRYAN HITCH
cover by DAVID FINCH
card stock variant cover by BABS TARR
ON SALE 5/4/21
$3.99 US | 32 PAGES | 3 OF 6 | FC | DC
CARD STOCK VARIANT COVER $4.99 US
With the Crime Syndicate's forces combined for the first time, seeds are sown to change the world forever. But before that can happen, Ultraman, Superia, Johnny Quick, Atomica, and Emerald Knight must survive a final battle with the biggest Starro of them all—and each other! Plus: Earth-3's Alexander Luthor makes his debut!
Question of the month: On Earth-3, are Starros friends or foes?
And in the backup story, witness the origin of Superwoman in tale illustrated by superstar artist Bryan Hitch!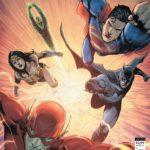 JUSTICE LEAGUE: LAST RIDE #1
written by CHIP ZDARSKY
art by MIGUEL MENDONÇA
cover by DARICK ROBERTSON
card stock variant cover by MIGUEL MENDONÇA
ON SALE 5/11/21
$3.99 US | 32 PAGES | FC | DC
CARD STOCK VARIANT COVER $4.99 US
DIGITAL FIRST
Once the most powerful group in the world, the Justice League was destroyed by tragedy and time, disbanding under a veil of mistrust and anger. Now, on the eve of the universe's greatest murder trial, the League must come together one last time…but can Superman and Batman bury the past before the cosmos's greatest villains bury them?
Learn the shocking truth in this new digital-first adventure by writer Chip Zdarsky and artist Miguel Mendonça!
SUPERMAN RED & BLUE #3
written by MICHEL FIFFE, STEVEN T. SEAGLE, NICK SPENCER, JESSE J. HOLLAND, and JAMES STOKOE
art by MICHEL FIFFE, DUNCAN ROULEAU, CHRISTIAN WARD, JAMES STOKOE, and LAURA BRAGA
cover by PAUL POPE
variant cover by JOHN PAUL LEON
variant cover by DERRICK CHEW
PRESTIGE FORMAT | ON SALE 5/18/21
$5.99 US | 40 PAGES | 3 OF 6 | FC | DC
Five more incredible tales of the Man of Steel, told in an art style that pays tribute to his primary colors. In this issue we take visits to both Smallville and the Fortress of Solitude. We look at an object that was important to Superman on his trip to Earth, and we see the lasting impact that has on those around him. Plus, punching! Someone has to take down the electro-mechano-organic intelligence they call Kilg%re, but even he's nothing compared to the massive monster waiting in the farthest reaches of space.
CHALLENGE OF THE SUPER SONS #2
written by PETER J. TOMASI
art by MAX RAYNOR and JORGE CORONA
cover by SIMONE DI MEO
card stock variant cover by NICK BRADSHAW
ON SALE 5/11/21
$3.99 US | 32 PAGES | 2 of 7 | FC | DC
CARD STOCK VARIANT COVER $4.99 US
Okay, Robin and Superboy saved the Flash from certain annihilation…surely the day is saved and everyone can go home and watch TV, right? Wrong! Once the Doom Scroll inscribes a name on its mystical list, the bearer of that name will be imminently killed—and the heroes of the Justice League are being targeted one by one! Next up? Wonder Woman! Plus, see just what happened when the boys were snatched from reality, and how they first encountered the Doom Scroll…in medieval England?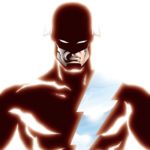 THE FLASH BY MARK WAID BOOK EIGHT TP
written by MARK WAID, BRIAN AUGUSTYN, and JOE CASEY
art by PAUL PELLETIER, DUNCAN ROULEAU, SCOTT KOLINS, DOUG BRAITHWAITE, and others
cover by STEVE LIGHTLE
ON SALE 6/15/21
$34.99 US | $45.99 CAN | 368 PAGES | FC | DC
Trade paperback
ISBN: 978-1-77951-010-5
As this latest collection of Flash tales written by Mark Waid begins, meet Walter West, a Flash from a parallel reality where his beloved Linda Park died and the speedster doles out brutal justice to criminals as a response. Can the two Flashes co-exist long enough to stop Replicant, a villain with the combined powers of the Rogues Gallery? Better find out fast—the longer Walter West stays on Wally's Earth, the more he poses a threat to all of reality!
Collects The Flash #151-162, The Flash Annual #12, and pages from The Flash Secret Files #2.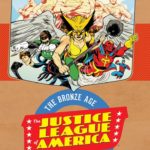 JUSTICE LEAGUE OF AMERICA: THE BRONZE AGE OMNIBUS VOL. 3 HC
written by GERRY CONWAY, PAUL LEVITZ, MARTIN PASKO, and STEVE ENGLEHART
art by DICK DILLIN, GEORGE TUSKA, and others
cover by KARL KERSCHL
ON SALE 7/6/21
$125.00 US | $163.00 CAN | 1,192 PAGES | FC | DC
Hardcover
7.0625″ x 10.875″
ISBN: 978-1-77951-016-7
The JLA moves into the second half of the '70s with tales guest-starring the Justice Society of America, the Legion of Super-Heroes, and heroes from the long-gone past including Jonah Hex, the Viking Prince, Enemy Ace, and more. Plus, the League's mascot, Snapper Carr, turns against the team, the Phantom Stranger helps the team battle a returning pantheon of ancient gods, the Martian Manhunter faces Despero for the lives of the League, and the Secret Society of Super-Villains swap bodies with the World's Greatest Superheroes. Plus, Black Lightning is invited to join the JLA—but turns down the invitation for mysterious reasons.
Collects Justice League of America #147-182, Super-Team Family #11-14, DC Special #27, DC Special Series #6, Secret Society of Super-Villains #15, DC Comics Presents #17, and pages from Amazing World of DC comics #14.
DCEASED: HOPE AT WORLD'S END HC
written by TOM TAYLOR
art by DUSTIN NGUYEN, RENATO GUEDES, CARMINE DI GIANDOMENICO, MARCO FAILLA, KARL MOSTERT, and DANIELE DI NICUOLO
cover by FRANCESCO MATTINA
ON SALE 6/15/21
$24.99 US | $33.99 CAN | 176 PAGES | FC | DC
HARDCOVER
ISBN: 978-1-77951-128-7
In Earth's darkest hour, heroes will bring hope in this new addition to the DCeased saga, taking place within the timeline of the original epic!
DCeased became a smash horror hit in 2019 by offering a twisted version of the DC Universe infected by the Anti-Life Equation, transforming heroes and villains alike into mindless monsters.
DCeased: Hope at World's End, previously only available digitally, expands the world of that original DCeased series by filling in that story's time jump and focusing on characters including Superman, Wonder Woman, Martian Manhunter, Stephanie Brown, Wally West, and Jimmy Olsen.
In DCeased: Hope at World's End, the Anti-Life Equation has infected over a billion people on Earth. Heroes and villains have fallen. In the immediate aftermath of the destruction of Metropolis, Superman and Wonder Woman spearhead an effort to stem the tide of infection, preserve and protect survivors, and plan for what's next. In the Earth's darkest hour, heroes will bring hope! The war for Earth has only just begun!
This volume collects DCeased: Hope at World's End Digital Chapters 1-15.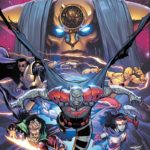 TALES FROM THE DC DARK MULTIVERSE II HC
stories and art by VARIOUS
cover by DAVID MARQUEZ
ON SALE 6/8/21
$34.99 US | $45.99 CAN | 368 PAGES | FC | DC
Hardcover
ISBN: 978-1-77951-007-5
The gateway into the Dark Multiverse has been opened…what stories will emerge? Follow Batman, Wonder Woman, and the Justice League as our heroes battle their way through these crumbling and shattered worlds!
Collects Tales from the Dark Multiverse: Batman: Hush #1; Tales from the Dark Multiverse: Flashpoint #1; Tales from the Dark Multiverse: Wonder Woman: War of the Gods #1; Tales from the Dark Multiverse: Crisis on Infinite Earths #1; and Tales from the Dark Multiverse: Dark Nights Metal #1, plus the stories that inspired these tales from Batman #619, Flashpoint #1, Wonder Woman: War of the Gods #4, Crisis on Infinite Earths #12, and Dark Nights: Metal #6.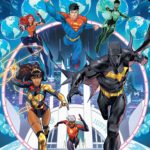 FUTURE STATE: JUSTICE LEAGUE TP
written by JOSHUA WILLIAMSON, RAM V, GEOFFREY THORNE, BRANDON THOMAS, BRANDON VIETTI, and others
art by ROBSON ROCHA, DALE EAGLESHAM, CLAYTON HENRY, BRANDON PETERSON, MARCIO TAKARA, DANIEL SAMPERE, and others
cover by DAN MORA
ON SALE 6/22/21
$29.99 US | $39.99 CAN | 296 PAGES | FC | DC
Trade paperback
ISBN: 978-1-77951-065-5
The first Future State collections are here! In the far-flung future, an all-new Justice League must investigate the mysterious death of their greatest foes—the Legion of Doom! The Justice League Dark emerges from years of hiding to fight the villainous force stalking supernatural heroes and villains alike! John Stewart and his band of abandoned Green Lanterns must hold the line against an invasion of murderous zealots in an uncharted dark sector after their rings have stopped working! Barry Allen battles for the soul of his former Flash partner, Wally West! And Jackson Hyde and Andy Curry, son of Black Manta and daughter of Aquaman, must find each other again after being torn apart if they hope to escape the mysterious universe-spanning One Great Ocean!
Collects Future State: Justice League #1-2, Future State: The Flash #1-2, Future State: Green Lantern #1-2, and Future State: Aquaman #1-2.
Share