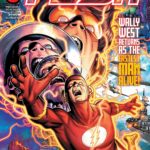 DC has posted several preview pages for next week's issue of The Flash, and you can see them at Screen Rant. The preview shows Wally West announcing his retirement to focus on his family, but it seems pretty clear that things will not work out as planned and we'll have to see how he feels after his time travel adventure.
Check it out at the link!
THE FLASH #768
written by JEREMY ADAMS
art and cover by BRANDON PETERSON
variant cover by IAN MacDONALD
ON SALE 3/16/21
$3.99 US | 32 PAGES | FC | DC
The retirement of Wally West begins! After the events spanning from DC Universe: Rebirth to Heroes in Crisis to Dark Nights: Death Metal, the former Kid Flash decides to call it quits. But the current Flash needs his former partner now more than ever. As fallout from Infinite Frontier hits the Flash, Barry Allen and Wally West must confront the past by way of a Justice League led by Green Arrow.
Share