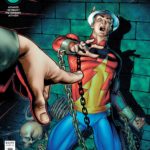 DC has posted several preview pages for this week's issue of The Flash, and you can see them at Bleeding Cool. The preview shows us a flashback to Jay Garrick's days in World War II, in which he meets the Ray as part of the fight against the Nazis. Check it out at the link!
THE FLASH #770
written by JEREMY ADAMS
art by JACK HERBERT and BRANDON PETERSON
cover by BRANDON PETERSON
card stock variant cover by BRETT BOOTH
ON SALE 5/18/21
$3.99 US | 32 PAGES | FC | DC
CARD STOCK VARIANT COVER $4.99 US
Dropped into the battlefields of World War II, Wally West continues his search for a way home. As the Fastest Man Alive comes face to face with the Führer himself, Wally's friends in the present day search for a way to bring him back and an answer to why he's stuck leaping from speedster to speedster throughout time.
Share