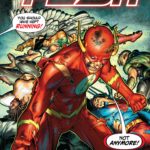 DC has posted six pages from this week's Flash annual, and you can see them at Graphic Policy. In the preview, Wally has to relive the tragedy at Sanctuary…and learns something surprising about what happened that day. It might please a few unhappy fans.
Check it out at the link!
THE FLASH 2021 ANNUAL #1
written by Jeremy Adams
art by Brandon Peterson and Fernando Pasarin
cover by Brandon Peterson
card stock variant cover by Brett Booth
ON SALE 6/29/2021
$5.99 US | 48 PAGES | FC | DC
card stock variant cover $6.99 US | FC | DC
The lightning-fast and action-packed "Surge" story line races to its conclusion as Wally West returns to the present day with a new perspective on the past and a reinvigorated desire to take back the mantle of the Flash. With one last hurdle to leap, Wally puts the past behind him, but he'll need to propel himself further and faster than ever before to do it.
Share