DC has posted their full complement of solicitations for December 2021, and here are all the ones relating to the Flash. It's a very sparse month, and for some reason the solicits at CBR and Newsarama didn't include a cover for the Flash #777 issue; there's a tiny one shown at Bleeding Cool, however. That month sees Wally having an adventure on Gemworld with Amethyst and the Justice League Dark.
You can see the solicitations in their entirety at CBR.
THE FLASH #777
Written by JEREMY ADAMS
Art by WILL CONRAD
Cover by BRANDON PETERSON
Variant cover by JORGE CORONA
$3.99 US | 32 pages | $4.99 US Variant (Card Stock)
ON SALE 12/21/21
Justice League Dark on Gemworld!
Having traveled to Gemworld by way of the second dimension, the Flash joins Justice League Dark and the princess of Gemworld, Amethyst, in a race against time to thwart Eclipso's evil plans.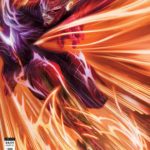 JUSTICE LEAGUE #71
Written by BRIAN MICHAEL BENDIS and RAM V
Art by PHIL HESTER and SUMIT KUMAR
Cover by YANICK PAQUETTE and NATHAN FAIRBAIRN
Variant cover by ALEXANDER LOZANO
$4.99 US | 40 pages | $5.99 US Variant (Card Stock)
ON SALE 12/21/21
The Royal Flush Gang hatched one of the most elaborate plans in the history of the DC Universe, and now we know that all of it was a prelude to the crime of this and maybe even the next century. How does it connect to the trial of Black Adam?
When all seems lost, hope can still be found! With Wonder Woman now by their side, the Justice League Dark have survived to fight another day. Merlin is only getting started—can the team still prove they have the magic within to defeat the medieval mage?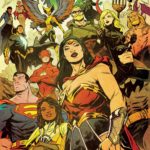 JUSTICE LEAGUE 2021 ANNUAL #1
Written by BRIAN MICHAEL BENDIS
Art and cover by SANFORD GREENE
Variant by FELIPE MASSAFERA
$5.99 US | 48 pages | Variant $6.99 US (Card stock)
ON SALE 12/14/21
The return of Wonder Woman! Wait, what's that? Also, the return of…OMAC! Jack Kirby's greatest creation, the One-Man Army Corps, returns to the DC universe just in time to team up with the reunited Justice League to stop secret forces of evil from gathering! Join Eisner Award winner Sanford Greene as he brings the legacy of the League to life leading into Justice League vs. the Legion of Super-Heroes!
TEEN TITANS ACADEMY #10
Written by TIM SHERIDAN
Art by MIKE NORTON
Cover by RAFA SANDOVAL
Variant cover by FICO OSSIO
$3.99 US | 32 pages | $4.99 US Variant (Card Stock)
ON SALE 12/28/21
Dane, a.k.a. Nevermore, came to the academy to become a hero, but circumstance and fate are leading him down a much darker path. To understand their future, the Titans must look into the complicated past of their most mysterious student—and unearth truths that may leave them with an impossible choice.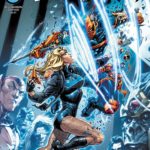 DEATHSTROKE INC. #4
Written by JOSHUA WILLIAMSON
Art and cover by HOWARD PORTER
Variant cover by IVAN TAO
$3.99 US | 32 pages | $4.99 US Variant (Card Stock)
ON SALE 12/28/21
DEATHSTROKE VS. BLACK CANARY!
Now that they know the truth about the secretive T.R.U.S.T. organization, Black Canary and Deathstroke are at odds over what to do about it. But before they can set aside their hatred for each other, they are attacked by an army of the DC Universe's deadliest villains!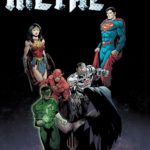 ABSOLUTE DARK NIGHTS: METAL
Written by SCOTT SNYDER
Art by GREG CAPULLO and JONATHAN GLAPION
Cover by GREG CAPULLO
$125.00 US | 400 pages
8 1/8″ × 12 1/4″ | Hardcover
ISBN: 978-1-77951-527-8
ON SALE 5/31/22
The Dark Knight has uncovered one of the lost mysteries of the universe. Something that could destroy the very fabric of his reality: the Dark Multiverse! It's a nightmarish realm of devastating danger—where a team of twisted, evil versions of Batman lies waiting for a chance to cross into our own world.
This Absolute edition of the epic story collects Dark Nights: Metal #1-6, Batman: Lost #1, and Dark Knights Rising: The Wild Hunt #1, as well as more than 100 pages of extras and special features in an oversize slipcase.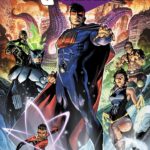 CRIME SYNDICATE
Written by ANDY SCHMIDT
Art by KIERAN McKEOWN and BRYAN HITCH
Cover by JIM CHEUNG and ROMULO FAJARDO JR.
$17.99 US | 152 pages | 6 5/8″ x 10 3/16″| Softcover
ISBN: 978-1-77951-282-6
ON SALE 1/18/22
There's no justice on Earth-3! Following the events of Dark Nights: Death Metal, the Multiverse was reborn—and so was Earth-3, inhabited by evil reflections of familiar heroic faces in the DC Universe like Ultraman, Owlman, and Superwoman! Witness the all-new origin story of the baddest team of super-villains in the Multiverse. Collects Crime Syndicate #1-6, including backup origin stories for each member of the Syndicate illustrated by superstar Bryan Hitch!
Share