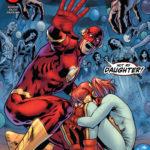 DC has posted three preview pages from next week's issue of The Flash, and you can see them at Adventures In Poor Taste. The pages give us our first glimpse of the new villain Dr. Nightmare, and tell us a bit about his abilities. Plus, Wally and Irey will be attending a dance together. Check it out at the link!
THE FLASH #774
Writer: JEREMY ADAMS
Artist: CHRISTIAN DUCE
Cover: BRYAN HITCH
Variant Cover: JORGE CORONA
$3.99 US | 32 PGS | $4.99 US VARIANT (Card Stock)
ON SALE 9/21//21
Introducing Dr. Nightmare!
Bad dreams come to life and lead to chaos on the streets of Central City on the same night the Fastest Man Alive attends a daddy/daughter dance. Side-by-side with his super-powered daughter, Wally must not slow down, or they risk falling victim to the man named Dr. Nightmare.
Share