DC has posted the full complement of solicitations for January 2022, and here are all the ones relating to the Flash. They're sparse again, as has been typical for the past few months. But the Flash solo book continues under Jeremy Adams, and interestingly the solicitation text is almost identical to last month's.
You can see the solicits in their entirety at CBR.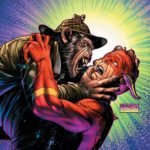 THE FLASH #778
Written by JEREMY ADAMS
Art by FERNANDO PASARIN and MATT RYAN
Cover by BRANDON PETERSON
Variant cover by JORGE CORONA
$3.99 US | 32 pages | $4.99 US Variant (Card Stock)
ON SALE 1/18/22
Having traveled to Gemworld by way of the second dimension, the Flash joins Justice League Dark and the princess of Gemworld, Amethyst, in a race against time to thwart Eclipso's evil plans.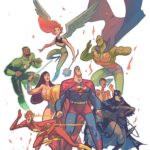 JUSTICE LEAGUE INFINITY #7
Written by J.M. DeMATTEIS and JAMES TUCKER
Art by ETHEN BEAVERS
Cover by RILEY ROSSMO
$3.99 US | 32 pages | 7 of 7
ON SALE 1/4/22
The entity released from the Mirrored Room has accomplished its goal and is erasing the Multiverse and all of existence once and for all. In a last-ditch effort, using all his willpower, John Stewart saves what friends he can. Trapped in a construct bubble, the team works to formulate a plan of action, but is it too late? Is this the end of the Justice League?
TEEN TITANS ACADEMY #11
Written by TIM SHERIDAN
Art by MIKE NORTON
Cover by RAFA SANDOVAL
Variant cover by FICO OSSIO
$3.99 US | 32 pages | $4.99 US Variant (Card Stock)
ON SALE 1/25/22
Dane, a.k.a. Nevermore, came to the academy to become a hero, but circumstance and fate are leading him down a much darker path. To understand their future, the Titans must look into the complicated past of their most mysterious student—and unearth truths that may leave them with an impossible choice.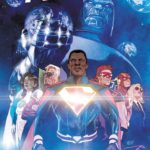 INFINITE FRONTIER
Written by JOSHUA WILLIAMSON
Art by XERMANICO, PAUL PELLETIER, and JESUS MERINO
Cover by MITCH GERADS
$39.99 | 352 pages | 6 5/8″ x 10 3/16″ | Hardcover
ISBN: 978-1-77951-424-0
ON SALE 2/15/22
When our heroes saved the Multiverse from Perpetua in Dark Nights: Death Metal, everything was put back where it belonged…and we do mean everything. All the damage from all the Crises was undone, and heroes long thought gone returned from whatever exile they had been in.
Most of them, at least.
Alan Scott, the Green Lantern of the Justice Society of America, has noticed some of his allies are still missing in action, and he's determined to find them. There are others, though, who would rather remain hidden than explain themselves, like Roy Harper, a.k.a. Arsenal, a man who should be dead but now is not. Plus, what does all this mean for the DCU's place in the Multiverse? On opposite sides of a dimensional divide, both Barry Allen and President Superman ponder this question. Not to mention the Darkseid of it all! Or a team of Multiversal heroes called Justice Incarnate!
Share