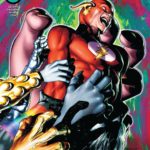 DC has posted several preview pages from next week's issue of The Flash, and you can see them at Adventures In Poor Taste. The preview features Wally and other heroes struggling to deal with a mysterious weapon from space which landed in Central City…and it seems to have strange effects on people.
Check out the pages at the link.
THE FLASH #775
Writer: JEREMY ADAMS
Artist: FERNANDO PASARIN
Cover: BRANDON PETERSON
Variant Cover: JORGE CORONA
$4.99 US | 48 PGS | $5.99 US VARIANT (Card Stock)
ON SALE 10/19/21
Hunt for the glaive!
When a mysterious glaive crash-lands in the middle of Central City, the Flash must race against time to stop its ill effects, all while keeping an army of super-villains from obtaining this unknown and sinister cosmic prize.
Share