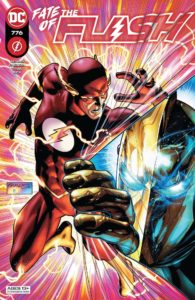 Jeremy Adams has brought a lot of fun to this title – fitting as the focus is on Wally West.  This issue takes that fun to the next level and beyond. The fourth wall is not just broken, it's shattered to a million pieces. And, it's up to YOU, the reader to save the day! Wanna know more? Follow us after the jump!
MILD SPOILERS AHEAD!
There is a bit of the best of the Silver Age that keeps showing up in THE FLASH. it's that element of fun that Adams brings to the title. Still, the fun doesn't take away from the action – it's just an added element that makes this run with the title so enjoyable. This issue has a HUGE amount of fun with the fourth wall, asking the reader to take specific actions with the book at different points in the plot. PLEASE, go along with it – it just makes the experience more fun.
Doctor Fate has taken Wally into a two dimensional space, in hopes of getting ahead of Eclipso. Fate knows we readers are there, but Wally does not at first. When he is made aware, the real fun of the issue begins. They go through all sorts of dangers with the "help" of the reader, barely escaping tragedy each time. They end up on the last page in Gemworld, where we will catch up with them next issue, along with JL Dark. Things are looking grim, but we will have to wait for next issue to see what's next.
NOTES:
We're going spare on the description here, as the real fun is experiencing the book as a "character" being drawn into the story. You really need to try that out for yourself.
There are some mentions of glyphs, but they don't seem to show in the digital edition I reviewed. If you find that in the print edition, let me know.
The little Silver Aged kid in me (keep in mind I've been reading THE FLASH for well over 50 years) was having a GREAT time with the fan-participation part of the book. And yes, you CAN do that even with a digital copy – if you read it on an iPhone or iPad.
SUMMARY:
This was an issue that will likely be remembered for a long time, along with other great attempts at DC and Marvel in breaking the fourth wall. We need an issue like this at times, and the "YOU are a character" approach was absolute fun all the way through. I'll give this issue an 8/10. Of course, that's just my opinion – what do YOU think? Leave your comments below.
Share