DC has posted the full complement of solicitations for February 2022, and here are all the ones relating to the Flash. The solicits have thankfully diversified a bit more after the past few months of mostly Batbooks, and the Eclipso arc continues in the solo Flash series.
You can see the solicits in their entirety at CBR.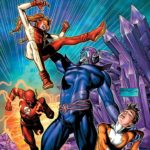 THE FLASH #779
Written by JEREMY ADAMS
Art by FERNANDO PASARIN and MATT RYAN
Cover by BRANDON PETERSON
Variant cover by JORGE CORONA
Black history month variant cover by ALEXIS FRANKLIN
$3.99 US | 32 pages | $4.99 US Variant (Card Stock)
ON SALE 2/15/22
Unexpected heroes arrive to help the Flash in his final confrontation with Eclipso. Can Wally West move fast enough to save the universe? Find out in part three of "The Eclipso War!"
JUSTICE LEAGUE INCARNATE #4
Written by JOSHUA WILLIAMSON and DENNIS CULVER
Art by CHRIS BURNHAM and ANDREI BRESSAN
Cover by GARY FRANK
Variant cover by JORGE FORNÉS
1:25 variant cover by CHRIS BURNHAM
$4.99 US | 40 pages | 4 of 5 | $5.99 US Variant (Card Stock)
ON SALE 2/1/22
THIS ISSUE…A HERO DIES!
Doctor Multiverse discovers there is a threat greater than Darkseid! Is the Justice League Incarnate's only option to work with the Lord of Apokolips? Meanwhile, on Earth-7, Orion and Aquawoman lead the rest of the team to gain control of the Oblivion Engine! But by the time this issue is over…a member of Justice League Incarnate meets their end!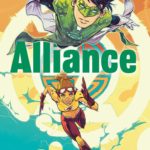 GREEN LANTERN: ALLIANCE
Written by MINH LÊ
Art and cover by ANDIE TONG
$9.99 US | 144 pages | 5-1/2″ x 8″ | Softcover
ISBN: 978-1-77950-380-0
ON SALE 4/26/22
The creative team behind Green Lantern: Legacy brings back Tai Pham in the action-packed sequel we've been waiting for!
It's only been a few months since Green Lantern Tai Pham inherited his ring from his Bà and defeated his nemesis, Xander Griffin. But Tai knows their last battle was only the beginning, and even though no one believes him, Tai is determined to prove that Xander is up to his old tricks again.
When a string of fires start popping up around Coast City, Tai finds himself stretched thin as he struggles to keep up with school, training, working at the store, and following Xander's trail. That is, until a new hero, Kid Flash, shows up on the scene with an offer to help. Can the heroes find the arsonist before it's too late?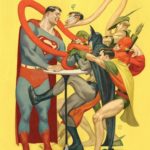 ACTION COMICS #1040
Written by PHILLIP KENNEDY JOHNSON and SHAWN ALDRIDGE
Art by RICCARDO FEDERICI and ADRIANA MELO
Cover by DANIEL SAMPERE
Variant cover by JULIAN TOTINO TEDESCO
Black history month variant by ALEXIS FRANKLIN
$4.99 US | 40 pages | $5.99 US Variant (Card stock)
ON SALE 2/22/22
Superman has become a force to be reckoned with inside Warworld's arena, and Mongul questions his decision to keep his enemies alive. As Superman's new Phaelosian ally Kryl-Ux teaches him new ways to fight without powers, he starts to win Warzoons over to his cause…but someone within his inner circle finds their allegiances tested. Meanwhile, the elusive Midnighter uses his talents to find the missing members of the Authority.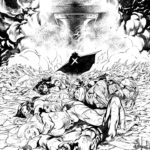 TEEN TITANS ACADEMY #12
Written by TIM SHERIDAN
Art by MIKE NORTON
Cover by RAFA SANDOVAL
Variant cover by FICO OSSIO
$3.99 US | 32 pages | $4.99 US Variant (Card Stock)
ON SALE 2/22/22
It's all come down to this! As their lives are literally tumbling down around them, the Titans must contend with the betrayal of their most troubled student—who has just unmasked themselves as Red X—plus a familiar face from deep in their darkest days, determined to exact an unholy vengeance upon Nightwing. In the end, after the epic collision of past, present, and future, who and what of Teen Titans Academy will still be standing?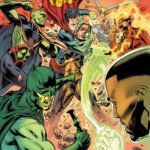 WONDER WOMAN: EVOLUTION #4
Written by STEPHANIE PHILLIPS
Art by MIKE HAWTHORNE and ADRIANO DI BENEDETTO
Cover by MIKE HAWTHORNE
Variant cover by SIMONE DI MEO
$3.99 | 32 pages | 4 of 8 | Variant $4.99 US (Card stock)
ON SALE 2/15/22
Wrenched away from Earth and marooned on an alien world, Wonder Woman must stand trial as Earth's proxy as alien gods determine if humankind even deserves to exist. Diana believes she's the equal to any challenge placed in front of her, but even she is not ready to take on the entire Justice League in a battle with no quarter asked and none given! Wonder Woman goes cosmic with writer Stephanie Phillips (Harley Quinn) and artist Mike Hawthorne (Deadpool, Daredevil).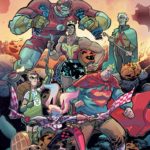 HARLEY QUINN #12
Written by STEPHANIE PHILLIPS
Art and cover by RILEY ROSSMO
Variant cover by DERRICK CHEW
1:25 variant cover by RIAN GONZALES
$3.99 US | 32 pages | $4.99 US Variant (Card Stock)
ON SALE 2/22/22
If Superman had to deal with a bomb on a runaway train barreling toward Gotham, he'd just throw the whole thing into outer space like a football. Zatanna would do some cool magic thing. Aquaman would, like, summon an army of bomb-defusing dolphins or something. But I'm Harley Quinn…and I can't do any of those things. So how am I gonna defuse the bomb, save Kevin, and stop Keepsake from destroying Gotham? Well…I'm workin' on it, okay? Don't rush me! But I've definitely, certainly, without a doubt got it handled. Probably.
ABSOLUTE MULTIVERSITY
Written by GRANT MORRISON
Art by IVAN REIS, FRANK QUITELY, JIM LEE, and others
Cover by RIAN HUGHES
$99.99 US | 620 pages | 8 1/8″ x 12 1/4″ | Hardcover
ISBN: 978-1-77951-561-2
ON SALE 7/19/22
Grant Morrison's masterpiece is now collected in an oversize Absolute format! Join DC heroes from 52 alternate Earths as they band together to battle a menace that spans the entire Multiverse. Featuring artwork by Ivan Reis (Justice League), Frank Quitely (All-Star Superman), Jim Lee (Batman), and many others, this volume collects all the issues from the Multiversity series, including the director's cuts editions, plus loads of extras!
CHALLENGE OF THE SUPER SONS
Written by PETER J. TOMASI
Art by MAX RAYNOR, JORGE CORONA, and EVAN STANLEY
Cover by JORGE JIMENEZ
$16.99 US | 168 pages | 6 5/8″ x 10 3/16″ | Softcover
ISBN: 978-1-77951-510-0
ON SALE 3/29/22
The boys are back! Picking up where the sensational Adventures of the Super Sons left off, the son of Batman and the son of Superman are back in the spotlight and ready to give evil a good spanking. A mysterious woman from beyond time has appeared to the DCU's favorite sons, and her arrival heralds certain doom (that's a hint, everyone) for things to come! It's a time-twisting adventure that casts our favorite super-spawn as the saviors of the Justice League—battling the likes of Vandal Savage, Felix Faust, and heavy grocery bags along the way!
Share