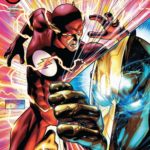 DC has posted four preview pages from next week's issue of The Flash, featuring Doctor Fate and a whole lot of breaking of the fourth wall. The story leads in to the upcoming "Eclipso War".
Check out the preview at Adventures In Poor Taste!
THE FLASH #776
Written by JEREMY ADAMS
Art by FERNANDO PASARIN
Cover by BRANDON PETERSON
Variant cover by JORGE CORONA and IVAN PLASCENCIA
$3.99 US | 32 PGS | $4.99 US VARIANT (Card stock)
ON SALE 11/16/21
Doctor Fate arrives to whisk the Flash away to the IN-BETWEEN, a two-dimensional causeway filled with demonic forces. Now it's up to YOU, the reader, to help the Scarlet Speedster make his way through the dangerous dimension toward his final destination and the beginning of a brand-new adventure!
Share