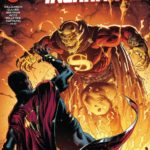 DC has posted several preview pages from Justice League Incarnate #2, and you can see them at Adventures In Poor Taste. The preview features Avery Ho, the Flash of China, alongside the rest of her team as they travel to the spooky world of Earth-13. There they find the magical bar known as the Cavern of Mystery, along with the counterparts of some familiar faces from their own worlds.
Check out the preview pages at the link!
JUSTICE LEAGUE INCARNATE #2
Written by JOSHUA WILLIAMSON and DENNIS CULVER
Art by KYLE HOTZ and ANDREI BRESSON
Cover by GARY FRANK
Variant cover by JORGE FORNES
1:25 variant cover by KYLE HOTZ
$4.99 US | 40 pages | 2 of 5 | $5.99 US Variant (Card Stock)
ON SALE 12/7/21
As Darkseid's quest leaves a bloody trail across the Multiverse, the Justice League Incarnate ventures to the dark world of horror known as Earth-13. They must enlist the aid of Super-Demon and his League of Shadows against not only Darkseid but also the evil power couple of Asmodel and the Sheeda Queen! While on Earth-11, the Batwoman Who Laughs begins her schemes.?
Share