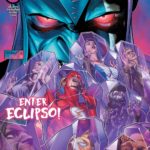 DC has posted several preview pages for next week's issue of The Flash, and you can see them at Adventures In Poor Taste. The preview features the beginning of Wally's trip to Gemworld with Amethyst and the Justice League Dark, as well as a glimpse at Jai West's feelings about his lack of powers. Check it out at the link!
THE FLASH #777
Written by JEREMY ADAMS
Art by WILL CONRAD
Cover by BRANDON PETERSON
Variant cover by JORGE CORONA
$3.99 US | 32 pages | $4.99 US Variant (Card Stock)
ON SALE 12/21/21
Justice League Dark on Gemworld!
Having traveled to Gemworld by way of the second dimension, the Flash joins Justice League Dark and the princess of Gemworld, Amethyst, in a race against time to thwart Eclipso's evil plans.
Share