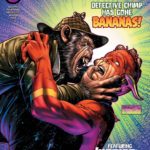 DC has posted several preview pages from next week's issue of The Flash, and you can see them at Adventures In Poor Taste. The preview features the continuation of Wally's adventures in Gemworld with Justice League Dark, and Irey encounters dangerous people when she sneaks out of the house with Maxine Baker. Check it out at the link!
THE FLASH #778
Written by JEREMY ADAMS
Art by FERNANDO PASARIN and MATT RYAN
Cover by BRANDON PETERSON
Variant cover by JORGE CORONA
$3.99 US | 32 pages | $4.99 US Variant (Card Stock)
ON SALE 1/18/22
Having traveled to Gemworld by way of the second dimension, the Flash joins Justice League Dark and the princess of Gemworld, Amethyst, in a race against time to thwart Eclipso's evil plans.
Share