DC has posted their full complement of solicitations for April 2022, and here are all the ones relating to the Flash. That month sees the beginning of a new arc in The Flash solo book, and a prequel comic for the upcoming Flash movie (which is itself to be released in November). Plus, the apparent death of the Justice League in their team book.
You can see the solicitations in full at CBR.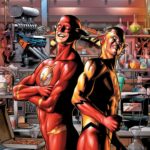 THE FLASH #781
Written by JEREMY ADAMS
Art by FERNANDO PASARIN and MATT RYAN
Cover by BRANDON PETERSON and MICHAEL ATIYEH
Variant cover by NIKOLA ČIŽMEŠIJA
$3.99 US | 32 pages | Variant $4.99 US (card stock)
ON SALE 4/19/22
The Eclipso War left Wally West stopped dead in his tracks…but a brand-new villain has emerged to wreak havoc on the Scarlet Speedster! An exciting new story arc begins here!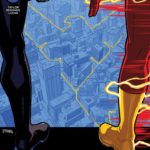 NIGHTWING #91
Written by TOM TAYLOR
Art and cover by BRUNO REDONDO
Variant cover by JAMAL CAMPBELL
1:25 variant cover by SERG ACUNA
$3.99 US | 32 pages | Variant $4.99 US (card stock)
ON SALE 4/19/22
Trying to save a city that's even more beyond saving than Gotham is no small task, and even someone like Nightwing needs a day off to relax with his best friend and to recharge—but when your best friend is Wally West, a.k.a. the Flash, a "recharge" might not end up being so relaxing!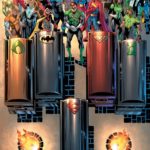 JUSTICE LEAGUE #75
Written by JOSHUA WILLIAMSON
Art by RAFA SANDOVAL
Cover by DANIEL SAMPERE and ALEJANDRO SÁNCHEZ
Variant covers by ALEX MALEEV, DAN JURGENS and
NORM RAPMUND, and MIKEL JANÍN
1:25 variant cover by SIMONE DI MEO
1:50 variant cover by TONY HARRIS
Team variant cover by TODD NAUCK
$6.99 US | 48 pages | (All on card stock)
ON SALE 4/19/22
Oversize special issue! Superstar writer Joshua Williamson pens the beginning of the next big DCU event! It all starts here!
A new Dark Army made up of the DCU's greatest villains has formed on the edges of the Multiverse! The DCU's best and most powerful heroes are pulled together in an epic war to push the darkness back! But in the end, they are no match for it! That's right, you heard it here first: the Justice League are killed by the Dark Army, with only one survivor to warn the remaining heroes of Earth about what is coming for them!
FINAL ISSUE!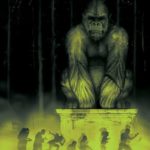 ROGUES #2
Written by JOSHUA WILLIAMSON
Art by LEOMACS
Cover by SAM WOLFE CONNELLY
Variant cover by LEOMACS
1:25 variant cover by JORGE FORNÉS
$6.99 US | 48 pages | 2 of 4 | Prestige Plus | 8 1/2″ x 10 7/8″
ON SALE 4/26/22
17+
You might think you know Gorilla City, but you don't. Not a soul who has gone looking for the secret kingdom has ever returned. You'd think the Rogues would know better than to go searching…but they either don't know or just don't care. The down-on-their-luck ex-cons are back together for the heist of a lifetime, but every time Captain Cold thinks he's got things all figured out, the rug is pulled out from under him. And even if they make it to Gorilla City alive, they have a version of Gorilla Grodd unlike anything you've ever seen waiting for them…Continuing this groundbreaking neo-noir take on some of the DCU's greatest villains!
FLASHPOINT BEYOND #0
Written by GEOFF JOHNS
Art by EDUARDO RISSO
Cover by DEXTER SOY
Variant cover by EDUARDO RISSO
1:25 variant cover by MAX DUNBAR
$5.99 US | 48 pages
ON SALE 4/5/22
The world of Flashpoint returns! After sacrificing everything to help the Flash put the universe back together and save Bruce Wayne's life, Thomas Wayne wakes up in a world he thought was no more. Forced to don the cowl once again, Batman prowls the streets of Gotham searching for answers to how this world still exists, but what he starts to uncover will send him hurtling around the globe. The hunt for the Clockwork Killer starts here!
Legendary writer Geoff Johns comes back to the alternate world he created, partnering with prolific artist Eduardo Risso as he returns to the Flashpoint Batman!
FLASHPOINT BEYOND #1
Written by GEOFF JOHNS, JEREMY ADAMS, and TIM SHERIDAN
Art by XERMÁNICO
Cover by MITCH GERADS
Variant cover by XERMÁNICO
1:25 variant cover by GARY FRANK
1:50 variant cover by TODD NAUCK
$4.99 US | 32 pages | 1 of 6 | Variant $5.99 US
ON SALE 4/19/22
Batman's hunt for the Clockwork Killer brings him to Europe and face to face with the mad king, Aquaman. On the eve of Aquaman's sinking of London, Batman infiltrates his stronghold and goes on the warpath for answers. Nothing matters to Batman, whose world is already dead, but if he can track down the Clockwork Killer, Thomas can save his son's world and put everything back together again.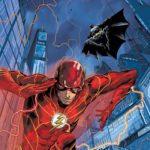 THE FLASH: THE FASTEST MAN ALIVE #1
Written by KENNY PORTER
Art by RICARDO LÓPEZ ORTIZ
Cover by MAX FIUMARA
Variant cover by ANDY MUSCHIETTI
$5.99 US | 48 pages | Variant $6.99 US
ON SALE 4/26/22
Race through the streets of Central City in this lead-up to the hotly anticipated blockbuster The Flash! After Barry's adventure with the Justice League, he's determined to become a truly skilled and inspirational hero. As a new threat emerges in Central City going by the name of Girder, Barry turns to Batman for advice on training to master his powers. Can the Dark Knight help show the Scarlet Speedster a way to defeat this metallic menace, or will the Flash be crushed by Girder's strength?
JUSTICE LEAGUE VOL. 1: PRISMS (HC)
Written by BRIAN MICHAEL BENDIS
Art and cover by DAVID MARQUEZ
$24.99 US | 128 pages | 6 5/8″ x 10 3/16″| Hardcover
ISBN: 978-1-77951-437-0
ON SALE 5/10/22
Writer Brian Michael Bendis reunites with artist David Marquez (Miles Morales, Iron Man, Batman/Superman) for a new, star-studded Justice League featuring Superman, Batman, the Flash, Hawkgirl, Aquaman, Hippolyta, new DC powerhouse Naomi, and…is that Black Adam?! Superman is leading the charge to reinvent the Justice League, and at the same time, a new, cosmic-powered threat arrives from Naomi's homeworld to rule the Earth! This special hardcover edition collects the entire epic opening saga of this all-new era for the Justice League! Collects Justice League #59-63.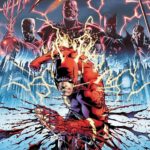 FLASHPOINT
Written by GEOFF JOHNS
Art and cover by ANDY KUBERT and SANDRA HOPE
$16.99 | 176 pages
6 1/2″ x 10 1/8″ | Softcover
ISBN: 978-1-40123-338-9
ON SALE NOW
Not a dream, not an imaginary story, not an Elseworld. This is Flash Fact: When Barry Allen wakes at his desk, he discovers the world has changed. Family is alive, loved ones are strangers, and close friends are different, gone, or worse. It's a world on the brink of a cataclysmic war–but where are the World's Greatest Heroes to stop it? It's a place where America's last hope is Cyborg, who intends to gather the forces of the Outsider, the Secret 7, Shazam, Citizen Cold and other new and familiar—yet altered—faces! It's a world that could be running out of time, if the Flash can't find the villain who altered the timeline! Collects Flashpoint #1-5!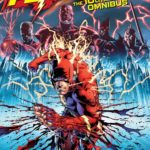 FLASHPOINT: THE 10TH ANNIVERSARY OMNIBUS
Written by GEOFF JOHNS
Art by VARIOUS
Cover by ANDY KUBERT
$150.00 US | 1,512 Pages
6 1/2″ x 10 1/8″ | Hardcover
ISBN: 978-1-77950-977-2
ON SALE NOW
The Flash's world has changed, and the whole DC Universe with it. Even the Fastest Man Alive can run out of time, and if there is to be anything left of the past, present, or future, Barry Allen must learn the secret of…FLASHPOINT!
Barry Allen awoke in a world he barely recognizes, but it isn't a trick or a parallel Earth. Something or someone has altered time, replacing Barry's world with a new one. And this new world is not a safe place.
The planet is on the brink of destruction as Wonder Woman and the Amazons wage war with Aquaman and the Atlanteans. A motley group of heroes is mounting a resistance, but in this world, heroes are hard to come by. No one has ever heard of the Flash, or the Justice League, or even Superman. Hal Jordan was never given a Green Lantern ring, and Bruce Wayne was killed in Crime Alley when he was just a little boy.
Without his powers or his friends to aid him, Barry reaches out to a new Batman to put the world right. If they fail, they'll never escape the twisted world of…FLASHPOINT!
Collecting the five-issue Flashpoint miniseries along with the prelude story from The Flash #8-12 and all 56 tie-in issues, Flashpoint: The 10th Anniversary Omnibus features a rogues gallery of comics talent including Geoff Johns, Andy Kubert, Brian Azzarello, Eduardo Risso, Scott Snyder, Jeff Lemire, Gene Ha, Dan Jurgens, and more.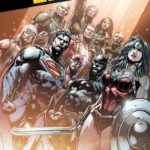 JUSTICE LEAGUE: THE NEW 52 OMNIBUS VOL. 2
Written by GEOFF JOHNS, PETER J. TOMASI, TOM KING, and others
Art by JASON FABOK, IVAN REIS, and others
Cover by JASON FABOK
$150.00 US | 1,256 pages | 7 1/16″ x 10 7/8″ | Hardcover
ISBN: 978-1-77951-558-2
ON SALE 6/21/22
One of the boldest eras in Justice League history continues in this massive collection, featuring the second half of superstar writer Geoff Johns's run on DC's premier super-team. Volume two collects the rest of Johns' Justice League issues plus the Forever Evil and Darkseid War story lines, all leading up to DC's Rebirth event.
RWBY/JUSTICE LEAGUE
Written by MARGUERITE BENNETT
Art by ANEKE, STEPHANIE PEPPER, EMANUELA LUPACCHINO and WADE VON GRAWBADGER, and MEGHAN HETRICK
Cover by MIRKA ANDOLFO
$16.99 US | 160 pages | 6 5/8″ x 10 3/16″ | Softcover
ISBN: 978-1-77951-530-8
ON SALE 5/17/22
The DC Universe and the world of RWBY collide! Discover the Bruce Wayne, Clark Kent, and Diana Prince of Remnant as Team RWBY comes face to face with new versions of DC's paragons of justice. New Grimm have been popping up around Remnant as well as people disappearing without a trace. As Team RWBY investigates these mysterious happenings, they encounter new friends along the way. But will these new "heroes" help our intrepid huntresses turn the tide and find the cause of all this madness, or will a long-hidden beast's plan finally mean doom for Remnant? Collecting the popular series RWBY/Justice League #1-7, this volume also features the initial designs of the Justice League of Remnant as well as a variant cover gallery.
Share