DC has posted their full complement of solicitations for May 2022, and here are all the ones relating to the Flash. That month sees the continuation of Linda Park-West's plot, as well as the finale of the current Teen Titans series (which features new speedster Bolt, as well as occasionally Wally West). Plus, the penultimate part of the four-issue Rogues Black Label series.
You can see the solicits in their entirety at CBR.
THE FLASH #782
Written by JEREMY ADAMS
Art by FERNANDO PASARIN and MATT RYAN
Cover by BRANDON PETERSON and MICHAEL ATIYEH
Variant cover by TODD NAUCK
$3.99 US | 32 pages | Variant $4.99 US (card stock)
ON SALE 5/17/22
The Speed Force on lockdown! Some of the Rogues are plotting something big inside Iron Heights, and the Flash goes inside to root out the plot. Meanwhile, Wallace figures out his future, and Linda tries to find out if she really has powers…
DARK CRISIS FCBD SPECIAL EDITION 2022 #1
Written by JOSHUA WILLIAMSON and more!
Art by JIM CHEUNG, DANIEL SAMPERE, and more!
Cover by DANIEL SAMPERE
$.30 NET per copy | 32 pages
Standard periodical
6 5/8″ x 10 3/16″
ON SALE 5/7/22
Witness the rise and fall of the Justice League! The event years in the making is here with Dark Crisis! The Justice League is comics' greatest super-team—made up of DC Comics' legendary heroes, they have saved the world countless times. No crisis was too much for them to handle…until now! The Justice League has been defeated by the Great Darkness and its army of DC's most dangerous enemies—now a new generation of heroes must rise to protect not only the Multiverse…but also the legacy of the DCU!
A prelude to DC Comics' biggest story of 2022! Includes a preview and art from Dark Crisis #1 coming, in June! Don't miss out on this Free Comic Book Day special featuring the blockbuster talents of Joshua Williamson, Jim Cheung, and Daniel Sampere! For free!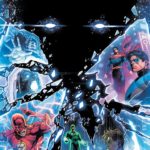 JUSTICE LEAGUE: ROAD TO DARK CRISIS #1
Written by JOSHUA WILLIAMSON, JEREMY ADAMS, BRANDON THOMAS, CHUCK BROWN, STEPHANIE PHILLIPS, and
PHILLIP KENNEDY JOHNSON
Art by CLAYTON HENRY, FICO OSSIO, EMANUELA LUPACCHINO, LEILA DEL DUCA, and more!
Cover by DANIEL SAMPERE
Variant cover by CHRIS BURNHAM
1:25 variant cover by RAFAEL SARMENTO
$5.99 US | 48 pages | One-shot | Variant $6.99 US (card stock)
ON SALE 5/31/22
The Justice League has tragically fallen in battle, and now we see the aftermath.
How does the world react to the Justice League being gone? Which heroes rise up…and which villains try to take advantage? And what dark forces are lying in wait to attack?
An all-star roster of DC talent showcases a world without a Justice League and sets the stage for next month's Dark Crisis event!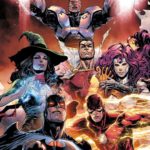 FLASHPOINT BEYOND #3
Written by GEOFF JOHNS, TIM SHERIDAN, and JEREMY ADAMS
Art by XERMÁNICO
Cover by MITCH GERADS
Variant cover by XERMÁNICO
1:25 variant cover by DAVID MARQUEZ
$3.99 US | 32 pages | 3 of 6 | Variant $4.99 US (card stock)
ON SALE 5/17/22
The DC event of 2022 continues! Thomas Wayne's investigation into the Clockwork Killer goes sideways when he is confronted by a deadly alien invader the world knows as…Project: Superman? But what's happened to the Kryptonian and Krypton in the World of Flashpoint? Will Thomas Wayne do what he has to in order to stop Superman—or has he changed? And what are those strange earthquakes now erupting across reality?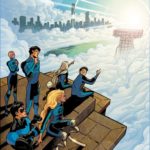 TEEN TITANS ACADEMY #15
Written by TIM SHERIDAN
Art by TOM DERENICK
Cover by TOM DERENICK and MATT HERMS
Variant cover by TODD NAUCK
$3.99 US | 32 pages | Variant $4.99 US (card stock)
ON SALE 5/24/22
FINAL ISSUE! In the shadow of the new Titans Tower, the students and faculty decide whether the school is the right place for them.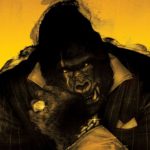 ROGUES #3
Written by JOSHUA WILLIAMSON
Art by LEOMACS
Cover by SAM WOLFE CONNELLY
Variant cover by MAX DUNBAR
1:25 variant cover by LEOMACS
$6.99 US | 48 pages | 3 of 4 | Prestige Plus | 8 1/2″ x 10 7/8″
ON SALE 5/24/22
17+
"Book III: The Heist"! Captain Cold had a plan to steal from Gorilla Grodd. A plan that was going to make the Rogues rich and change their lives for the better. But now that plan has exploded, and Rogues blood is splattered all over Gorilla City. If the remaining members are going to survive, they need to think fast and work together. But a betrayal by one of the Rogues brings the heat to a whole new level! Continuing this groundbreaking neo-noir take on some of the DCU's greatest villains!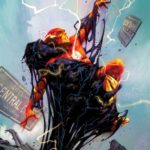 THE FLASH: THE FASTEST MAN ALIVE #2
Written by KENNY PORTER
Art by JUAN FERREYRA
Cover by SEBASTIAN FIUMARA
Variant cover by ANDY MUSCHIETTI
$5.99 US | 48 pages | 2 of 3 | Variant $6.99 US (card stock)
ON SALE 5/24/22
Barry Allen's early days as the Flash continue! Barry struggles to balance his new job as a hero with his internship at the crime lab. The pressure starts overwhelming him, literally, when the monstrous molten menace called Tar Pit appears in Central City looking to put an end to the Scarlet Speedster's interference in his family's business! Barry's anxiety kick-starts his powers, sending him phasing through objects with explosive results. Can Barry get a handle on his abilities and stop Tar Pit in his tracks, or will he be tarred and feathered out of Central City for good?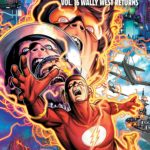 THE FLASH VOL. 16: WALLY WEST RETURNS
Written by JEREMY ADAMS
Art by BRANDON PETERSON, WILL CONRAD, and others
Cover by BRANDON PETERSON
$16.99 US | 280 pages | 6 5/8″ x 10 3/16″ | Softcover
ISBN: 978-1-77951-536-0
ON SALE 6/7/22
Wally West is ready to call it quits. After a tumultuous and traumatic few years from DC Universe: Rebirth to Heroes in Crisis to Dark Nights: Death Metal, the former Kid Flash is ready to walk, not run, away from the superhero life—but Barry Allen needs his former partner now more than ever. This volume collects The Flash #763-771 and The Flash 2021 Annual #1.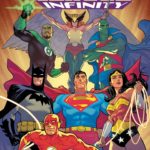 JUSTICE LEAGUE INFINITY
Written by J.M. DeMATTEIS and JAMES TUCKER
Art by ETHEN BEAVERS
Cover by FRANCIS MANAPUL
$16.99 US | 152 pages | 6 5/8″ x 10 3/16″ | Softcover
ISBN: 978-1-77951-537-7
ON SALE 6/7/22
From Justice League Unlimited producer James Tucker and series writer J.M. DeMatteis comes an all-new season starring the World's Greatest Heroes! The doors to the Multiverse are cracked open, sending the Justice League hurtling to different Earths, where things aren't quite as they appear! Can the Justice League band together with heroes across multiple Earths and put a stop to an ancient evil, or will all of existence disappear once and for all? Collecting Justice League Infinity #1-7!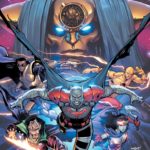 TALES FROM THE DC DARK MULTIVERSE II
Written by SCOTT SNYDER, COLLIN KELLY & JACKSON LANZING, PHILLIP KENNEDY JOHNSON, VITA AYALA, and
STEVE ORLANDO
Art by DEXTER SOY, BRYAN HITCH, ARIEL OLIVETTI, MIKE PERKINS, and KARL MOSTERT
Cover by DAVID MARQUEZ and ALEJANDRO SANCHEZ
$24.99 US | 456 pages | 6 5/8″ x 10 3/16″ | Softcover
ISBN: 978-1-77951-535-3
ON SALE 6/7/22
The twisted timelines that showed the Dark Multiverse and all the devastating danger that it contains are collected in Tales from the Dark Multiverse II. What dark realities exist within the realms of the Dark Multiverse? Follow Batman, Wonder Woman, and the Justice League as our heroes through these crumbling and shattered worlds!
Share