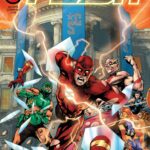 DC has posted several preview pages from next week's issue of The Flash, and you can see them at Adventures In Poor Taste. The issue is the third part of the "War for Earth-3" story which has spun out of the Suicide Squad book, though the story also continues where the last Flash issue left off. Linda's just learned that she has speed, but she's got bigger problems to worry about: the fact that Wally and the kids have mysteriously disappeared. Check it out at the link!
THE FLASH #780
Written by ROBBIE THOMPSON and DENNIS HOPELESS
Art by FERNANDO PASARIN and MATT RYAN
Cover by NIKOLA ČIŽMEŠIJA
Variant cover by MAX DUNBAR
$3.99 | 32 pages | Variant $4.99 (card stock)
ON SALE 3/15/22
Even the Fastest Man Alive can't outrun all the danger of the War for Earth-3. Enlisted by his former teammates on the Teen Titans, Wally West helped bring the Titans to Earth-3 but will any of them make it home? Chased by Earth-3's Johnny Quick, the Scarlet Speedster quickly finds himself running out of options.
Share