DC has posted their full complement of solicitations for July 2022, and here are all the ones relating to the Flash. That month sees a Dark Crisis tie-in at the solo Flash book, as Wally and Wallace go searching for Barry, and Bart is still with Young Justice in that Dark Crisis miniseries. Plus an intriguing new limited series called DC: Mech debuts, featuring an alternate universe Flash and giant battle suits.
You can see the solicits in full at CBR.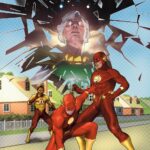 THE FLASH #784
Written by JEREMY ADAMS
Art by AMANCAY NAHUELPAN
Cover by TAURIN CLARKE
Variant cover by BENGAL
$3.99 US | 32 pages
Variant $4.99 US (card stock)
ON SALE 7/19/22
The search for Barry Allen! Wally and Wallace have arrived on the planet Pariah has trapped Barry on—but it's not quite a happy reunion among the Flashes. The Dark Crisis tie-in storyline continues!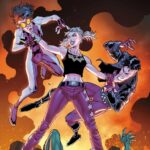 DARK CRISIS: YOUNG JUSTICE #2
TALE OF TWO WONDER GIRLS!
Written by MEGHAN FITZMARTIN
Art by LAURA BRAGA
Cover by MAX DUNBAR
Variant cover by NIKOLA ČIŽMEŠIJA
$3.99 US | 32 pages
2 of 6 | Variant $4.99 US (card stock)
ON SALE 7/19/22
Impulse, Superboy, and Tim Drake were just saved by Cassie Sandsmark, Wonder Girl in the strange fantasy word they're trapped in. And she's here to help them navigate their retro surroundings. But…Cassie Sandsmark is back on our Earth searching for her friends alongside Red Tornado and the superhero formerly known as Arrowette. Which Cassie is lying and who's about to get burned?!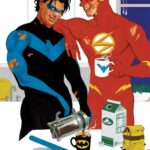 NIGHTWING #94
Written by TOM TAYLOR
Art and cover by BRUNO REDONDO
Variant cover by JAMAL CAMPBELL
1:25 variant cover by DAVID TALASKI
$3.99 US | 32 pages | Variant $4.99 US (card stock)
ON SALE 7/19/22
There's a new commissioner in town, and it's none other than Maggie Sawyer! But one clean commissioner does not make a whole bad basket of Blüdhaven police officers good, and now Blockbuster is forced to lean more on Nightwing's sister, Mayor Zucco, to oversee the old commissioner's illegal dealings…Then, an attack on Haven reveals some shocking truths to Nightwing and Oracle that make it difficult to recover from.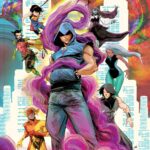 MULTIVERSITY: TEEN JUSTICE #2
Written by IVAN COHEN and DANNY LORE
Art by MARCO FAILLA
Cover by ROBBI RODRIGUEZ
Variant cover by STEPHANIE HANS
$3.99 US | 32 pages | 2 of 6 | Variant $4.99 US (card stock)
ON SALE 7/5/22
The explosive miniseries starring Kid Quick and their allies shifts into even higher gear as Teen Justice investigates the Church of Blood! When efforts to infiltrate the mysterious church backfire, one hero faces a devastating loss! Plus: Supergirl and Robin attract surprising allies when they discover an unexpected mystery, Aquagirl finds herself out of her element (and then some), and an encounter with the Justice Guild threatens the future of Teen Justice!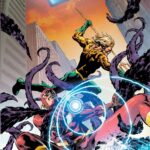 AQUAMAN & THE FLASH: VOIDSONG #2
Written by JACKSON LANZING and COLLIN KELLY
Art by VASCO GEORGIEV
Cover by MIKE PERKINS
Variant cover by VASCO GEORGIEV
$6.99 US | 56 pages | 2 of 3 | Prestige
ON SALE 7/19/22
The true purpose of the Voidsong is revealed! The end of the world was just the beginning! With the Voidsong's influence spreading deep into the fabric of reality, Aquaman and the Flash are the only heroes left standing. The apocalyptic circumstances seem to have finally forged a true partnership between these two disparate heroes, which raises a glimmer of hope. But as they head beneath the waves to do battle with the entity behind the song, what closely guarded secret will shatter the trust they'd formed?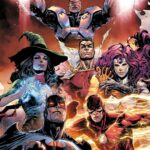 FLASHPOINT BEYOND #3
Written by GEOFF JOHNS, JEREMY ADAMS, and TIM SHERIDAN
Art by XERMÁNICO
Cover by MITCH GERADS
Variant cover by XERMÁNICO
1:25 variant cover by DAVID MARQUEZ
1:50 variant cover by IVAN REIS
$3.99 US | 32 pages | 3 of 6 | Variant $4.99 US (card stock)
ON SALE 7/5/22
The DC event of 2022 continues! Thomas Wayne's investigation into the Clockwork Killer goes sideways when he is confronted by a deadly alien invader the world knows as…Project: Superman? But what's happened to the Kryptonian and Krypton in the World of Flashpoint? Will Thomas Wayne do what he has to in order to stop Superman—or has he changed? And what are those strange earthquakes now erupting across reality?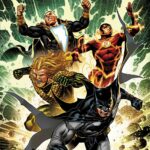 BATMAN: URBAN LEGENDS #17
Written by RYAN CADY, JOEY ESPOSITO,
ALEX PAKNADEL, and DAN WATTERS
Art by GLEB MELNIKOV, SERG ACUÑA, AMANCAY NAHUELPAN, and RILEY ROSSMO
Cover by JIM CHEUNG and JAY DAVID RAMOS
Variant covers by GLEB MELNIKOV,
SEBASTIAN FIUMARA, and GARY FRANK
$7.99 US | 64 pages | Prestige
ON SALE 7/12/22
A blockbuster issue! Batman teams up with the Flash, Aquaman, and Black Adam in three spectacular stories in this special issue of Batman: Urban Legends, celebrating the Dark Knight's monumental year on the silver screen! Also features a Bat-villain-centric bonus story. Brought to you by four stellar creative teams. Perfect for old fans and new readers alike!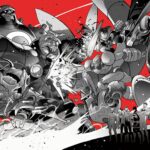 DC: MECH #1
Written by KENNY PORTER
Art and cover by BALDEMAR RIVAS
Variant cover by DAN MORA
1:25 variant cover by RICARDO LÓPEZ ORTIZ
1:100 variant cover by KARL KERSCHL
Team wraparound variant cover by BALDEMAR RIVAS
$3.99 US | 32 pages | 1 of 6 | Variant $4.99 US (card stock)
ON SALE 7/26/22
At the end of World War II, Earth was invaded by giant mechanized parademons from a planet called Apokolips. Earth's protectors, the Justice Society of America, were devastated, and with them, the age of superheroes came to an end and the era of the Mech began.
In the ensuing years, the world has stockpiled colossal battle suits piloted by elite warriors, waiting for the day Apokolips returns. But when Kal-El, the last son of a dying world, crash-lands in Metropolis with his own war suit, he'll face down two of Earth's finest Mech fighters, the Flash and Batman.
The dawn of a brave new mechanized DCU is here from the rising star creative team of Kenny Porter (The Flash: The Fastest Man Alive, Fearless) and Baldemar Rivas (Robins, Batman: Urban Legends).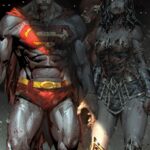 DC VS. VAMPIRES #7
Written by MATTHEW ROSENBERG and JAMES TYNION IV
Art by OTTO SCHMIDT
Cover by GUILLEM MARCH
Variant cover by FRANCESCO MATTINA
1:25 variant cover by LEIRIX
$3.99 US | 32 pages | 7 of 12 | Variant $4.99 US (card stock)
ON SALE 7/5/22
The nightmarish second arc begins! The Earth is now cloaked in darkness as the victorious vampire empire has taken full control. Pockets of humanity can still be found, and they struggle to live but hope fades with every darker day. The leaders of the last surviving resistance force—Green Arrow, Batgirl, and Supergirl—hatch a desperate plan to save the world…or die trying!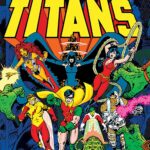 NEW TEEN TITANS OMNIBUS VOL. 1 (2022 EDITION)
Written by MARV WOLFMAN
Art by GEORGE PÉREZ, ROMEO TANGHAL, and others
Cover by GEORGE PÉREZ and DICK GIORDANO
$100.00 US | 692 pages | 7 1/4″ x 10 7/8″ | Hardcover
ISBN: 978-1-77951-672-5
ON SALE 9/13/22
Offered again! In 1980, writer Marv Wolfman and artist George Pérez introduced a timeless team including Robin, Kid Flash, Wonder Girl, Cyborg, Changeling, Raven, and Starfire! This omnibus edition collects the team's debut in DC Comics Presents #26, plus The New Teen Titans #1-20, The New Teen Titans Annual #1, The Best of DC (Blue Ribbon Digest) #18, and Tales of the New Teen Titans #1-4.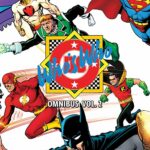 WHO'S WHO OMNIBUS VOL. 2
Written by VARIOUS
Art by VARIOUS
Cover by BRIAN BOLLAND, GEORGE PÉREZ, and others
$150.00 US | 1,216 pages | 7 1/16″ x 10 7/8″ | Hardcover
ISBN: 978-1-77951-519-3
ON SALE 9/6/22
DC's encyclopedia of heroes and villains steps into the 1990s in this massive hardcover continuing the classic Who's Who biography series! Also includes the spin-off series Who's Who in the Legion of Super-Heroes, spotlighting DC's greatest team of the 30th century. Collects Who's Who in the Legion of Super-Heroes #1-7, Who's Who in the DC Universe #1-16, and Who's Who in the DC Universe Update 1993 #1-2.
Share