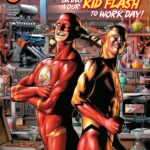 DC has posted several preview pages from next week's issue of The Flash, and you can see them at Adventures In Poor Taste. The preview features Wally trying to get his cousin Wallace to join him on an adventure…but Wallace doesn't seem quite so keen. Check it out at the link!
THE FLASH #781
Written by JEREMY ADAMS
Art by FERNANDO PASARIN and MATT RYAN
Cover by BRANDON PETERSON and MICHAEL ATIYEH
Variant cover by NIKOLA ČIŽMEŠIJA
$3.99 US | 32 pages | Variant $4.99 US (card stock)
ON SALE 4/19/22
The Eclipso War left Wally West stopped dead in his tracks…but a brand-new villain has emerged to wreak havoc on the Scarlet Speedster! An exciting new story arc begins here!
Share