DC has posted their full complement of solicitations for August 2022, and here are all the ones relating to the Flash. There's a Flash annual that month with a focus on Wally and Linda, and the final issue of the Rogues Black Label series appears to have been re-solicited. Plus, the return of the Tiny Titans and more silly fun like the Jurassic League and DC: Mech.
You can see the solicits in full at CBR.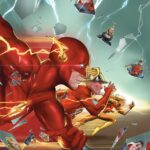 THE FLASH #785
Written by JEREMY ADAMS
Art by AMANCAY NAHUELPAN
Cover by TAURIN CLARKE
Variant cover by GEORGE KAMBADAIS
$3.99 US | 32 pages | Variant $4.99 US (card stock)
ON SALE 8/16/22
A Dark Crisis tie-in: the search for Barry Allen! Just when the speedsters seem to have snapped Barry out of Pariah's clutches, Wallace seems to be falling in… and the creator of Barry's mind prisons isn't about to let the team of speedsters just run off. And even if they could, where exactly would they run to…?
The Dark Crisis tie-in storyline races to its conclusion!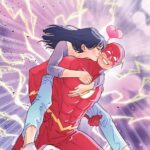 THE FLASH 2022 ANNUAL #1
Written by JEREMY ADAMS
Art by SERGIO ACUNA
Cover by MARGUERITE SAUVAGE
$5.99 US | 48 pages
ON SALE 8/30/22
It's been a wild time for Wally West and Linda Park-West: their children are regaining their powers, Wally is bouncing between realms, and Linda is dealing with a mysterious power surge! Now, as Linda begins doing research for her upcoming book, Wally comes along for some quality time, and the couple end up on an adventure neither expected!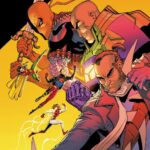 DARK CRISIS: YOUNG JUSTICE #3
Written by MEGHAN FITZMARTIN
Art by LAURA BRAGA
Cover by MAX DUNBAR
Variant cover by JORGE CORONA
$3.99 US | 32 pages | 3 of 6 | Variant $4.99 US (card stock)
ON SALE 8/16/22
Sins of the old! In response to their lack of gratitude, the world holding Superboy, Impulse, and Tim Drake captive has brought back the three villains who have caused them the most pain to keep them in their place: Deathstroke, Captain Boomerang, and Lex Luthor. Old wounds will open. Wonder Girl and her search team will have to hurry up before there's no Young Justice left to save!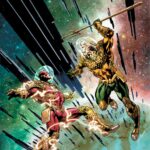 AQUAMAN & THE FLASH: VOIDSONG #3
Written by JACKSON LANZING and COLLIN KELLY
Art by VASCO GEORGIEV
Cover by MIKE PERKINS
Variant cover by VASCO GEORGIEV
$6.99 US | 56 pages | 3 of 3 | Prestige
ON SALE 8/16/22
THE WORLD-SHATTERING CONCLUSION! Their friendship is fractured. The Earth is crumbling under their feet. How can the Flash and Aquaman possibly face the overwhelming threat of the Voidsong's full power? It's a star-bound showdown for the ages—with the entire DC Universe in the balance—as super-gods and aliens collide!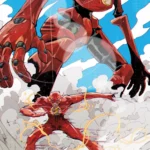 DC: MECH #2
Written by KENNY PORTER
Art and cover by BALDEMAR RIVAS
Variant cover by DAN MORA
1:25 variant cover by RICARDO LOPEZ ORTIZ
$3.99 US | 32 pages | 2 of 6 | Variant $4.99 US (card stock)
ON SALE 8/23/22
Wonder Woman's war machine! Wonder Woman and the Green Lanterns have arrived to help Batman and the Flash stop the invader from the stars known as Superman. The last time mechs from space arrived, they tried to destroy Earth—these heroes won't let that happen again, despite Superman's protests that he's on their side. Hawkwoman, the war mother of Earth, will intervene to prove to Earth's heroes Superman is on their side as Darkseid and Lex Luthor prepare their next moves in response to Superman's arrival…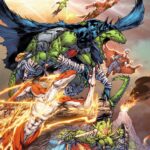 THE JURASSIC LEAGUE #4
Written by DANIEL WARREN JOHNSON and
JUAN GEDEON
Art by JUAN GEDEON
Cover by DANIEL WARREN JOHNSON
Variant cover by BRETT BOOTH
$3.99 US | 32 pages | 4 of 6 | Variant $4.99 US (card stock)
ON SALE 8/9/22
The trinity of Batsaur, Wonderdon, and Supersaur welcomes a few new monstrous members in the form of Aquanyx, Flashraptor, and Green Torch! But can even a fully staffed Jurassic League stand a chance against Darkseid and his army of corrupted carnivores?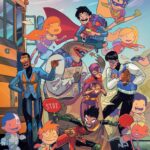 DC SAVED BY THE BELLE REVE #1
Written by ART BALTAZAR, FRANCO, ANDREW AYDIN, DAN WATTERS, BECKY CLOONAN, BRENDEN FLETCHER, TIM SEELEY, BRANDON
THOMAS, PETER J. TOMASI, and DAVE WIELGOSZ
Art by ART BALTAZAR, NELSON DÁNIEL, JUAN FERREYRA, KARL KERSCHL, MIKE NORTON, SCOTT KOLINS, and CRAIG CERMAK
Cover by JUNI BA
Variant cover by RILEY ROSSMO
$9.99 US | 80 pages | Prestige Format
ON SALE 8/30/22
School's back in session, and we just know you're waiting for the BELLE to give you some REVElief…all right, you can't say we didn't try! DC Saved by the Belle Reve's halls are packed with eight tales of schooltime fun from around the DC Universe! The Suicide Squad is sent to an international prep school to protect a dignitary's son! Jean-Paul Valley returns to the school that made him into Azrael! Plus, a return to Tiny Titans by Art Baltazar and Franco, and a new school year starts at Gotham Academy! So grab your pencils and notebooks and get educated!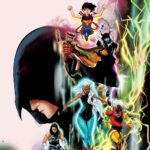 MULTIVERSITY: TEEN JUSTICE #3
Written by IVAN COHEN and DANNY LORE
Art by MARCO FAILLA
Cover by ROBBI RODRIGUEZ
Variant cover by STEPHANIE HANS
3.99 US | 32 pages | 3 of 6 | Variant $4.99 US (card stock)
ON SALE 8/2/22
The miniseries that goes to 11 (Earth-11, that is) gets even wilder, as the mysteries of a gender-flipped universe become clearer…and more shocking! From the depths of space to Superwoman's island fortress to the heart of the Church of Blood, Kid Quick and the rest of Teen Justice discover the threat they face is even greater than they imagined! What secret does a stranded Aquagirl learn from Green Lantern Hal Ferris? Why has Raven lost so much of his power? And what does Sister Blood have planned for Troy?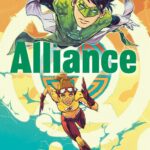 GREEN LANTERN: ALLIANCE
Written by MINH LE
Art and cover by ANDIE TONG
$9.99 US | 144 pages | 5-1/2″ x 8″ | Softcover
ISBN: 978-1-77950-380-0
ON SALE 10/18/22
It's only been a few months since Green Lantern Tai Pham inherited his ring from his ba and defeated his nemesis, Xander Griffin. But Tai knows their last battle was only the beginning, and even though no one believes him, Tai is determined to prove that Xander is up to his old tricks again.
When a string of fires starts popping up around Coast City, Tai finds himself stretched thin as he struggles to keep up with school, training, working at the store, and following Xander's trail. That is, until a new hero, Kid Flash, shows up on the scene with an offer to help. Can the heroes find the arsonist before it's too late?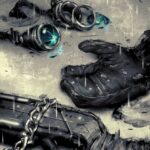 ROGUES #4
Written by JOSHUA WILLIAMSON
Art by LEOMACS
Cover by SAM WOLFE CONNELLY
Variant cover by LEOMACS
1:25 variant cover by KAARE ANDREWS
$6.99 US | 48 pages | 4 of 4 | Prestige Plus | 8 1/2″ x 10 7/8″
ON SALE 9/6/22
Gorilla City blues! All the Rogues wanted was a better life for themselves. But that's all over thanks to all their greed and backstabbing. Those still left alive are busted up with their backs against the wall, and Grodd's forces are closing in. With no heroes racing to save them, they must make a deadly deal with Gorilla Grodd to survive.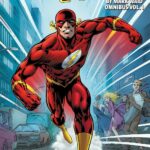 THE FLASH BY MARK WAID OMNIBUS VOL. 1
Written by MARK WAID
Art by MIKE WIERINGO, GREG LaROCQUE, and others
Cover by MIKE WIERINGO
$150.00 US | 1,088 pages | 7 1/16″ x 10 7/8″ | Hardcover
ISBN: 978-1-77951-363-2
ON SALE 11/1/22
Experience Wally West inheriting the mantle of the Fastest Man Alive in this volume chronicling Mark Waid's critically acclaimed run! When a freak accident gives Wally the same super-speed powers as his uncle Barry Allen, a.k.a. the Flash, Wally's journey toward becoming a true hero begins. Watch him take on terrorists, gunmen, and villains like the devious Mirror Master in these supersonic stories! This omnibus collects The Flash #62-91, The Flash Annual #4-6, Green Lantern #30-31, #40, The Flash Special #1, and Justice League Quarterly #10.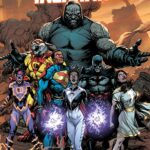 JUSTICE LEAGUE INCARNATE
Written by JOSHUA WILLIAMSON and DENNIS CULVER
Art by BRANDON PETERSON, ANDREI BRESSAN, and more
Cover by GARY FRANK
$24.99 US | 176 pages | 6 5/8″ x 10 3/16″ | Hardcover
ISBN: 978-1-77951-795-1
ON SALE 10/25/22
The Superman of Earth-23 leads a team of superheroes from a myriad of worlds that includes Flashpoint Batman, China's Flash from Earth-0, Captain Carrot from Earth-26, and the brand new superhero Dr. Multiverse from Earth-8 in a last-ditch effort to stop the end of every possible universe as we know it! Written by Joshua Williamson and Dennis Culver with first issue art by Brandon Peterson and Andrei Bressan and a rotating cast of artists exploring the many different worlds of the DC Multiverse, this can't-miss series is the next thrilling chapter in the Infinite Frontier saga! Collects Justice League Incarnate #1-5.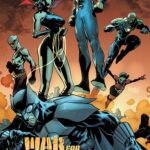 WAR FOR EARTH-3
Written by DENNIS HOPELESS, ROBBIE THOMPSON, and others
Art by STEVE PUGH, DEXTER SOY, BRENT PEEPLES, and others
Cover by GLEB MELNIKOV
$16.99 US | 176 pages | 6 5/8″ x 10 3/16″ | Softcover
ISBN: 978-1-77951-803-3
ON SALE 9/13/22
The Teen Titans, the Flash, and the Suicide Squad all collide on Earth-3—home of the evil Crime Syndicate—on the hunt for Amanda Waller. As Waller tries to take over the alternate Earth and dethrone the evil versions of Superman, Wonder Woman, Batman, and other heroes that rule it, her former partner—Rick Flag—arrives on E-3 bent on making Waller pay for her crimes, while the Titans and Flash hunt for a missing Titans Academy student they believe was kidnapped by Waller. Collects War for Earth-3 #1-2, Suicide Squad #13, The Flash #780, and Teen Titans Academy #13.
Share