DC has posted their full complement of solicitations for September 2022, and here are all the ones relating to the Flash. That month sees a bit of a breather for Wally West amidst Dark Crisis, as well as the re-solicitation of the Flash movie prequel. Plus, a good look at the dinosaur Flash (and counterpart the Reverse-Slash) on the Jurassic League cover.
You can see the solicits in full at Newsarama.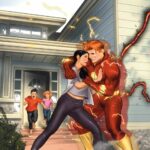 THE FLASH #786
Written by JEREMY ADAMS
Art by AMANCAY NAHUELPAN
Cover by TAURIN CLARKE
Variant cover by GEORGE KAMBADAIS
1:25 variant cover by DANIEL SAMPERE and ALEJANDRO SANCHEZ
Harley Quinn 30th variant cover by KIM JACINTO
$3.99 US | 32 pages | Variant $4.99 US (card stock)
ON SALE 9/20/22
Wally West is exhausted, and has been running nonstop since even before he had to step up in the wake of the loss of the Justice League. But, as he's figured out what he needs to do to free Barry (while also keeping Wallace from falling into Pariah's plans), he's also long overdue for a chat with Linda…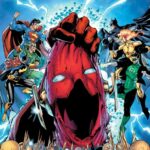 DARK CRISIS #4
Written by JOSHUA WILLIAMSON
Art and cover by DANIEL SAMPERE and ALEJANDRO SÁNCHEZ
Variant cover by TERRY DODSON and RACHEL DODSON
1:25 variant cover by DAN JURGENS and NORM RAPMUND
1:50 variant cover by NATHAN SZERDY
1:100 variant cover by DANIEL SAMPERE and ALEJANDRO SÁNCHEZ
Zero Hour homage variant cover by BRETT BOOTH and JONATHAN GLAPION
$4.99 | 32 pages | 4 of 7 | Variant $5.99 US (card stock)
ON SALE 9/6/22
Witness the birth of the new DC Multiverse!
Spinning out of the pages of The Flash, the heroes have learned the secret of Pariah's new worlds—but at what cost does this knowledge come, and what can they even do with this information—or even worse, perhaps Pariah and the Great Darkness want them to know…? On Earth-Zero, Deathstroke continues to move forward with his plans to erase legacy heroics once and for all, while Jon Kent, Nightwing, and the ragtag group of youngsters rally to step up to the increasing number of challenges. The event of the year rages on!
Dark Crisis is in many ways the direct sequel to the original Crisis on Infinite Earths by Marv Wolfman and George Pérez. In this issue Pariah's attempt to restore the infinite Multiverse reaches a breaking point! Stay tuned for a special announcement at SDCC 2022 that will change all you know about Dark Crisis!
ANNOUNCING SPECIAL OPEN ORDER HOMAGE VARIANTS TO EPIC CRISIS EVENTS FROM YEARS PAST! THIS MONTH IT'S ZERO HOUR: CRISIS IN TIME BY THE INCREDIBLE BRETT BOOTH and JONATHAN GLAPION!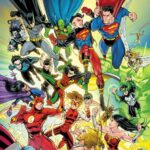 DARK CRISIS: YOUNG JUSTICE #4
Written by MEGHAN FITZMARTIN
Art by LAURA BRAGA
Cover by MAX DUNBAR
Variant cover by SERGIO ACUÑA
$3.99 US | 32 pages | 4 of 6 | Variant $4.99 US (card stock)
ON SALE 9/20/22
Young Justice against the world! The fake reality that Superboy, Impulse, and Robin are trapped in has completely turned against them, sending the full force of the JLA and the Titans they grew up with against them. It will take all of their combined might to fight through this onslaught and find out who is responsible for their imprisonment. Meanwhile, Wonder Girl, Arrowette, and Red Tornado head to San Francisco's Titans Island in search of assistance, but all they find are bad memories.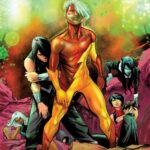 MULTIVERSITY: TEEN JUSTICE #4
Written by DANNY LORE and IVAN COHEN
Art by MARCO FAILLA
Cover by ROBBI RODRIGUEZ
Variant cover by STEPHANIE HANS
Hispanic Heritage Month variant cover by VANESA DEL REY
3.99 US | 32 pages | 4 of 6 | Variant $4.99 US (card stock)
ON SALE 9/6/22
An action-packed issue finds Kid Quick and their allies on Earth-11 face-to-face with a worlds-shaking threat! At last…why Raven refuses to join the team! Will the revelation prevent a tragedy…or somehow make it worse? Plus: an unexpected ally helps Troy escape the Church of Blood, the reunion the team's been hoping for finally takes place, and the villainy of the Core comes to light! On a scale of 1 to 10 for surprises and all-around awesomeness, this one's a solid (Earth-) 11!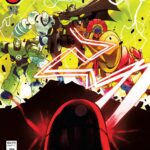 DC: MECH #3
Written by KENNY PORTER
Art and cover by BALDEMAR RIVAS
Variant cover by DAN MORA
1:25 variant cover by RICARDO LÓPEZ ORTIZ
1:50 variant cover by DAN MORA
$3.99 US | 32 pages | 3 of 6 | Variant $4.99 US (card stock)
ON SALE 9/27/22
A battle for the stars! Superman, Batman, Wonder Woman, Flash, and the Green Lanterns have combined their might and mechanized resources to help the world, but they're not a team quite yet. They're a group of pilots not flying in a pattern. This will have to change when they go to aid Steve Trevor's forces in space as they're attacked by Darkseid's Apokoliptian Army. And on Earth, Lex Luthor's experiments with Superman's DNA grow more frightening. The most epic miniseries of 2022 continues!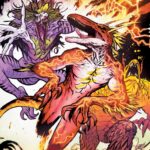 THE JURASSIC LEAGUE #5
Written by DANIEL WARREN JOHNSON and JUAN GEDEON
Art by JUAN GEDEON
Cover by DANIEL WARREN JOHNSON
Variant cover by JONATHAN MARKS
Hispanic Heritage Month variant cover by DAN MORA
$3.99 US | 32 pages | 5 of 6 | Variant $4.99 US (card stock)
ON SALE 9/13/22
Darkseid has revealed himself, and the entire world trembles beneath his might. Can even the newly assembled Jurassic League stand a chance against this ankylosaur antagonist and his Legion of Doomasauria? Experience this prehistoric penultimate chapter to find out!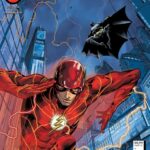 THE FLASH: THE FASTEST MAN ALIVE #1
Written by KENNY PORTER
Art by RICARDO LÓPEZ ORTIZ
Cover by MAX FIUMARA
Variant cover by ANDY MUSCHIETTI
1:25 pencil variant cover by ANDY MUSCHIETTI
$5.99 US | 48 pages | 1 of 3 | Variant $6.99 US (card stock)
ON SALE 9/13/22
Race through the streets of Central City in this lead-up to the hotly anticipated blockbuster The Flash! After Barry's adventure with the Justice League, he's determined to become a truly skilled and inspirational hero. As a new threat emerges in Central City going by the name of Girder, Barry turns to Batman for advice on training to master his powers. Can the Dark Knight help show the Scarlet Speedster a way to defeat this metallic menace, or will the Flash be crushed by Girder's strength?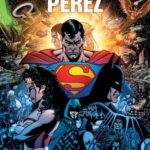 DC POSTER PORTFOLIO: GEORGE PÉREZ
Art and cover by GEORGE PÉREZ
$24.99 US | 42 pages | 12″ x 16″ | Softcover
ISBN: 978-1-77952-095-1
ON SALE 11/1/22
DC Comics is proud to present this poster portfolio of covers celebrating the prolific career of renowned artist George Pérez. Featuring artwork from The New Teen Titans, Wonder Woman, Crisis on Infinite Earths, and more, this collection spotlights George's penchant for crafting some of the most iconic and unforgettable images in comics.
The posters in this volume present but a fraction of the work by this beloved illustrator whose art has touched the hearts of comics fans around the world for generations.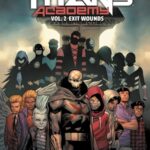 TEEN TITANS ACADEMY VOL. 2: EXIT WOUNDS
Written by TIM SHERIDAN
Art by RAFA SANDOVAL, JORDI TARRAGONA, MIKE NORTON, TOM DERENICK, and BRENT PEEPLES
Cover by RAFA SANDOVAL
$29.99 US | 240 pages | 6 5/8″ x 10 3/16″ | Hardcover
ISBN: 978-1-77951-569-8
ON SALE 10/11/22
The original New Teen Titans have reteamed and formed Titans Academy to teach the next generation of super-powered teens…if the students can survive the training. When an entire town in upstate New York turns on the students of Titans Academy while the adult Titans are on a mission, Gorilla Gregg, Chupacabra, and the other new students find themselves fighting for their lives against a chaotic mob. But is there something more than just intolerance driving the town's madness? This is just the beginning of trouble for the new Titans Academy students! Collecting Teen Titans Academy #7-15.
Share