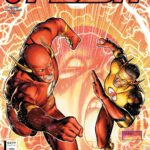 DC has released some preview pages from next week's issue of The Flash, and you can see them at Adventures In Poor Taste. The preview features the Flash Family assembling to rescue Barry, including Jay Garrick, Jesse Quick, and Max Mercury. Check it out at the link!
THE FLASH #783
Written by JEREMY ADAMS
Art by AMANCAY NAHUELPAN
Cover by BRANDON PETERSON and MICHAEL ATIYEH
Variant cover by BENGAL
$3.99 US | 32 pages | Variant $4.99 US (card stock)
ON SALE 6/21/22
A Dark Crisis tie-in: the search for Barry Allen! With the Justice League gone, Wally gathers the entire Flash Family in a desperate attempt to search the Speed Force and finally locate the missing Barry Allen. But does Barry want to be found? This three-issue story ties directly into this summer's event. Dark Crisis continues here!
Share