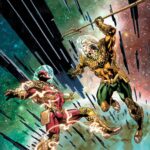 DC has posted several preview pages from the final issue of the Black Label series Aquaman & The Flash: Voidsong, and you can see them at Adventures In Poor Taste. In the preview, a desperate attack on the invading aliens puts Barry under their power and leaves him vulnerable to the Voidsong. Check it out at the link!
AQUAMAN & THE FLASH: VOIDSONG #3
Written by JACKSON LANZING and COLLIN KELLY
Art by VASCO GEORGIEV
Cover by MIKE PERKINS
Variant cover by VASCO GEORGIEV
$6.99 US | 56 pages | 3 of 3 | Prestige
ON SALE 8/16/22
THE WORLD-SHATTERING CONCLUSION! Their friendship is fractured. The Earth is crumbling under their feet. How can the Flash and Aquaman possibly face the overwhelming threat of the Voidsong's full power? It's a star-bound showdown for the ages—with the entire DC Universe in the balance—as super-gods and aliens collide!
Share