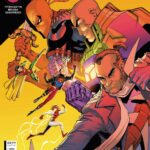 DC has posted several preview pages from next week's issue of Dark Crisis: Young Justice, and you can see them at Adventures In Poor Taste. The preview features Bart using his deductive skills to figure out what's happening to them while his teammates react a little more rashly to the situation, and it's nice to see him using his intelligence. Check it out at the link!
DARK CRISIS: YOUNG JUSTICE #3
Written by MEGHAN FITZMARTIN
Art by LAURA BRAGA
Cover by MAX DUNBAR
Variant cover by JORGE CORONA
$3.99 US | 32 pages | 3 of 6 | Variant $4.99 US (card stock)
ON SALE 8/16/22
Sins of the old! In response to their lack of gratitude, the world holding Superboy, Impulse, and Tim Drake captive has brought back the three villains who have caused them the most pain to keep them in their place: Deathstroke, Captain Boomerang, and Lex Luthor. Old wounds will open. Wonder Girl and her search team will have to hurry up before there's no Young Justice left to save!
Share