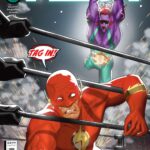 DC has posted several pages from next week's issue of The Flash, and you can see them at Adventures In Poor Taste. The preview features the West family enjoying a new intergalactic wrestling show on TV…only to realize it's hitting a little close to home. Check it out at the link!
THE FLASH #787
Written by JEREMY ADAMS
Art by FERNANDO PASARIN and MATT RYAN
Cover by TAURIN CLARKE
Variant cover by GEORGE KAMBADAIS
Black Adam movie variant cover by EJIKURE
$3.99 US | 32 pages | Variant $4.99 US (card stock)
ON SALE 10/18/22
IT'S MONDAY NIGHT SOMEWHERE!
(Mondays, amiright?) Wally West is back from his adventure to save Barry Allen, but there's no time to celebrate, as a new alien with a penchant for golden belts and trucker hair has added a new sting to the life of the Flash! This stone-cold heart-stopper of an issue will have you screaming "OHMAHGAWD!" as the Scarlet Speedster gets clotheslined in the face by a whole new era of attitude!
Share