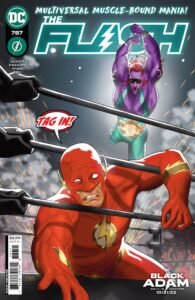 We've just completed an outstanding arc, and are getting ready for the next major arc to begin. What we get in between is an issue of THE FLASH that is more fun than any fan could ask. It's a romp through the world of pro wrestling with an intergalactic twist. And of course, Wally finds himself in the middle of it all! Wanna know more? Follow us after the jump!
SPOILERS AHEAD!
NOTE: The reason you haven't heard from me in a while is that I came down with COVID in mid-September. It really did a number on me – I did not have to be hospitalized, but the recovery has been a slow one. I'm glad to be close to full speed again, and even more happy to bring you this review. Thanks for your understanding in the meantime.
Growing up, I had two great interests – comics and pro wrestling. In this issue we get the absolute best of both, with an intergalactic twist. Wally is looking for some down time with his family, but their TV viewing is interrupted by a show called "Wrestling Across the Multiverse"! That sounds like fun, until they realize the action is taking place here on Earth, in fact it's all going on downtown!
Wally is unexpectedly pulled into the wrestling action as a competitor. He is up against characters meant to remind of us Mean Gene, Jerry "the King" Lawler, a Hulk Hogan/Randy Savage amalgamation, and more. All the stops are pulled out for this one.
And, it's a "no harm, no foul" issue. All the damage to downtown is set to be fixed by repair bots owned by the wrestling federation. And, all injuries to the wrestlers are healed thanks to a rejuvenation process. So, it's non-stop action with no holding back, and before it ends the world gets to watch our hero not just save the day, but win some title belts as well!
Yes, this story seems to have a little bit of that Silver Age kind of fun – and that's more than okay with this reviewer. Writer Jeremy Adams combines the fun of the Silver Age with a modern twist that gives full credibility to our favorite speedster. This issue may not present a major milestone in the history of THE FLASH – but it IS a huge amount of fun, and it's more than worth the read. Add to that the amazing artwork from Fernando Pasarin (penciles), Matt Ryan (inks), Jeromy Cox (colors) and Rob Leigh (letters).
SUMMARY:
One of the most fun takes on THE FLASH gets a 9/10 from me – of course, that's just my opinion. What do YOU think? Leave your comments below!
Share