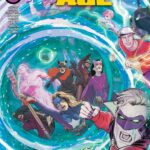 DC has posted several preview pages from next week's The New Golden Age one-shot, and you can see them at Adventures In Poor Taste. This issue kicks off DC's big return of the JSA, and will delve into the mystery of the missing Golden Age sidekicks — including young Judy Garrick — which has been teased for over a year now. And the JSA maxi-series will begin later this month.
Check it out at the link!
THE NEW GOLDEN AGE #1
Written by GEOFF JOHNS
Art by STEVE LIEBER, JERRY ORDWAY, and DIEGO OLORTEGUI
Cover by MIKEL JANÍN
Variant covers by GARY FRANK, TODD NAUCK, MICHAEL ALLRED, and DAVID TALASKI
1:25 variant cover by DAN HIPP
1:50 foil variant cover by MICHAEL ALLRED
1:100 foil variant cover by DAVID TALASKI
$4.99 US | 48 pages | One-shot | Variant $5.99 US (card stock)
ON SALE 11/8/22
From the Justice Society of America to the Legion of Super-Heroes, The New Golden Age will unlock DC's epic and secret-ridden history of heroism, launching a new group of titles set firmly in the DC Universe. From the 1940s to the 3040s, heroes take on the great evils of their time. But in the aftermath of Flashpoint Beyond, those heroes and villains will have their lives turned upside down. DC's future…and its past…will never be the same again. But how are Mime and Marionette connected to this? Why are Rip Hunter and the Time Masters the most unlikable heroes in the DC Universe? And who or what is…Nostalgia? Don't miss the start of the strangest mystery to have ever plagued the DC Universe.
Share