DC has posted their full complement of solicitations for January 2023, and here are all the ones relating to the Flash. That month sees the continuation of what's now called "The One-Minute War" in the solo Flash book, though it wasn't titled that in last month's solicits. Plus, the Justice Society of America book continues, and DC's doing a line-wide event called "Lazarus Planet" which hasn't hinted at any members of the Flash Family thus far.
You can see the solicitations in full at Newsarama.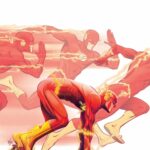 THE FLASH #791
Written by JEREMY ADAMS
Pencils by ROGER CRUZ
Inks by MATT BANNING
Cover by TAURIN CLARKE
Variant cover by DANIEL BAYLISS
Variant cover by MARCO D'ALFONSO
1:25 variant cover by KIM JACINTO
1:50 foil variant cover by TAURIN CLARKE
$3.99 US | 32 pages | Variant $4.99 US (card stock)
ON SALE 1/17/23
"The One-Minute War," part two! The heroes are split after the alien speedsters known as the Fraction smashed into Central City, and must attempt to fend off attacks while trying to formulate a plan.
But there's no time for the heroes to take a breather, as besides the speedsters, Miss Murder is also hunting the team—and she has speed hounds…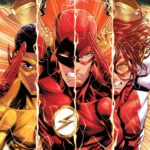 THE FLASH: ONE-MINUTE WAR SPECIAL #1
Written by JEREMY ADAMS
Art by VARIOUS
Cover by SERG ACUÑA
1:25 foil variant cover by SERG ACUÑA
$5.99 US | 48 pages | Variant $6.99 US (card stock)
ON SALE 1/31/23
A lot can happen in 60 seconds…as the Flash event "One-Minute War" rages on, writer Jeremy Adams gives you further insights into the alien speedster race that has invaded Central City, and how the Flash Family fights back!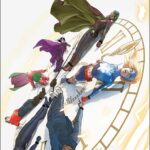 JUSTICE SOCIETY OF AMERICA #3
Written by GEOFF JOHNS
Art and cover by MIKEL JANÍN
Variant cover by YANICK PAQUETTE
1:25 variant cover by STEPHEN SADOWSKI
1:50 foil variant by MIKEL JANÍN
$3.99 US | 32 pages | 3 of 12 | Variant $4.99 US
(card stock)
ON SALE 1/24/23
Huntress's journey to save the Justice Society of America lands her smack dab in the middle of the 1940s at the birth of the team! Can Huntress and the present-day JSA work together long enough to figure out how to stop the strike on the '40s team?!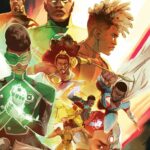 DC POWER: A CELEBRATION #1
Written by CHUCK BROWN, MORGAN HAMPTON, STEPHANIE WILLIAMS, EVAN NARCISSE, and others
Art by VALENTINE DE LANDRO, CLAYTON HENRY, and others
Cover by JAHNOY LINDSAY
Variant covers by SOZOMAIKA and TAJ TENFOLD
1:25 variant cover by KEN LASHLEY
1:50 foil variant by SOZOMAIKA
$9.99 US | 104 pages | One-shot | Prestige
ON SALE 1/31/23
First there was DC Pride and DC Festival of Heroes; now it's time to celebrate Black History Month! Cyborg, John Stewart, Aqualad, Kid Flash, Batwing, Vixen, Amazing-Man, and more take center stage to highlight the power of Black excellence across the DC Universe, in stories from a variety of comics' finest Black artists and writers!
STARGIRL: THE LOST CHILDREN #3
Written by GEOFF JOHNS
Art and cover by TODD NAUCK
Variant cover by AMY REEDER
1:25 variant cover by RO STEIN and TED BRANDT
$3.99 US | 32 pages | 3 of 6 | Variant $4.99 US
(card stock)
ON SALE 1/17/23
Stargirl comes face-to-face with the eighth soldier of victory, Wing, and a whole host of sidekicks from the past! But amongst the familiar faces are many Courtney's never even heard of before. Where are these kids from, what happened to them, and why were they erased from time?! The New Golden Age continues here!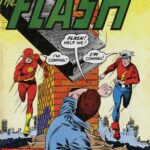 THE FLASH #123 FACSIMILE EDITION
Written by GARDNER FOX
Art by CARMINE INFANTINO and JOE GIELLA
Cover by CARMINE INFANTINO
and MURPHY ANDERSON
$3.99 US | 32 pages
ON SALE 1/10/23
The Flash meets the other Flash in this historic re-creation of "Flash of Two Worlds!" When Barry Allen's vibrational powers tear a hole between realities, he inadvertently winds up on Earth-Two—home to speedster Jay Garrick. But before Barry can go home, he'll have to help Jay contend with a trio of terrors in the form of the Thinker, the Fiddler, and the Shade! This faithful facsimile includes the original story and ads from the 1961 printing.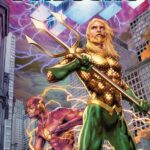 AQUAMAN & THE FLASH: VOIDSONG
Written by COLLIN KELLY and JACKSON LANZING
Art by VASCO GEORGIEV
Cover by JAY ANACLETO
$17.99 US | 160 pages | 6 5/8″ x 10 3/16″ | Softcover | ISBN: 978-1-77951-705-0
ON SALE 2/28/23
With the Justice League taken out of commission, Aquaman and the Flash face an alien invasion on their own. Will this unlikely pair be able to find the weakness of this seemingly invincible foe and save the Earth? Writers Jackson Lanzing and Collin Kelly (Batman Beyond: Neo-Year, Captain America: Sentinel of Liberty) team up with rising-star artist Vasco Georgiev to deliver an epic tale of two heroes facing impossible odds. Collects Aquaman & the Flash: Voidsong #1-3.
THE DC UNIVERSE BY DWAYNE McDUFFIE
Written by DWAYNE McDUFFIE and MATT WAYNE
Art by VAL SEMEIKS, GORDON PURCELL, ERIC BATTLE, and others
Cover by RENATO GUEDES
$39.99 US | 280 pages | 6 5/8″ x 10 3/16″ | Hardcover | ISBN: 978-1-77952-163-7
ON SALE 2/7/23
Writer Dwayne McDuffie was renowned for his ability to craft fantastic tales featuring characters who were heroic, yet still very relatable and human. This volume celebrates the DC work of McDuffie and contains stories curated from Action Comics #847, The Demon #26-29, Impulse #60, JLA Showcase 80-Page Giant #1, Batman: Gotham Knights #27, Sins of Youth: Kid Flash/Impulse #1, and Firestorm: The Nuclear Man #33-35, plus a tribute from Static Shock Special #1.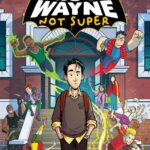 BRUCE WAYNE: NOT SUPER
Written by STUART GIBBS
Art and cover by BERAT PEKMEZCI
$12.99 US | 160 pages | 5 1/2″ x 8″
Softcover | ISBN: 978-1-77950-767-9
ON SALE 3/14/23
Have you ever felt like you didn't quite fit in?
Bruce Wayne knows all about that…being the only kid in his whole school without any powers and all. And when he gets pulled into the principal's office because his career choice of vigilantism is deemed too ambitious, Bruce becomes more determined than ever to prove that he can be just as cool as the other supers that give him a hard time. But first, he has to find the right disguise and gadgets…oh, and the perfect hideout.
Featuring a cast of DC favorites, Bruce Wayne: Not Super, from New York Times bestselling writer Stuart Gibbs (Spy School, Charlie Thorne) and artist Berat Pekmezci, is sure to keep readers laughing!
Share