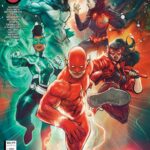 DC has posted several preview pages from next week's Dark Crisis one-shot, and you can see them at Adventures In Poor Taste. The preview features Iris West and Linda Park-West rescuing some children amidst the chaotic fighting between the heroes and Pariah's Dark Army. Check it out at the link!
DARK CRISIS: WAR ZONE #1
Written by MATTHEW ROSENBERG, DELILAH S. DAWSON, JEREMY ADAMS, FRANK TIERI, and STEPHANIE WILLIAMS
Art by GEORGE KAMBADAIS, DANIEL BAYLISS, FERNANDO PASARIN, MATT RYAN, and SERG ACUÑA
Cover by RAFAEL SARMENTO
Variant cover by MARIO "FOX" FOCCILLO and PRASAD RAO
1:25 variant cover by DAN JURGENS, NORM RAPMUND, and ALEX SINCLAIR
$5.99 US | 48 pages | one-shot (all covers are card stock)
On sale 12/6/22
A BOOTS-ON-THE-GROUND VIEW OF DARK CRISIS!
As the Hall of Justice falls, get new perspectives on the various conflicts while the battles across Dark Crisis rage on! With the classic Justice League members gone, see how members of the next generation such as Red Canary and The Flash Family deal with the chaos in this key chapter of the saga leading into Dark Crisis #7.
Share