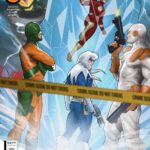 DC has posted several preview pages from next week's issue of The Flash, and you can see them at Adventures In Poor Taste. The preview shows the happy reunion between the West family and their long-missing friend Pied Piper, as well as the group formulating a plan of action against Mayor Wolfe. Check it out at the link!
THE FLASH #789
Written by JEREMY ADAMS
Pencils by FERNANDO PASARIN
Inks by MATT RYAN
Cover by TAURIN CLARKE
Variant cover by GEORGE KAMBADAIS
DC Holiday Card variant cover by SEAN "CHEEKS" GALLOWAY
$3.99 US | 32 pages | Variant $4.99 US (card stock)
ON SALE 12/20/22
Old friends return as Wally finds that he's on the wrong side of the law and a fugitive from justice! Wally must uncover the truth about the mayor, all while trying to outrun the Rogues who are attempting to track him down.
Share